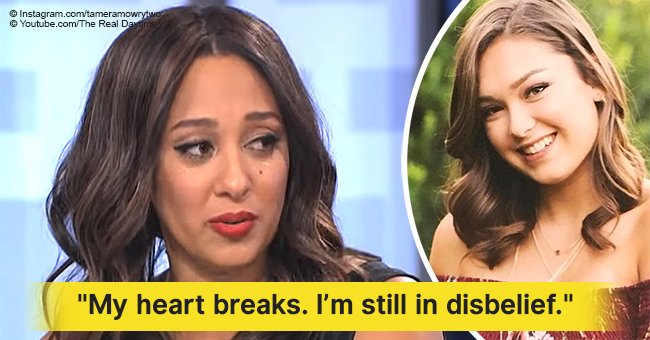 Tamera Mowry-Housley & husband mourn death of their niece who was killed in California shooting
Shortly after learning about their niece's tragic death, Tamera Mowry and her husband Adam Housley expressed their grief by paying tribute to the 18-year-old on social media.
Tamera Mowry and her husband Adam Housley are devastated over the death of their niece, Alaina Housley, who was one of the victims killed at a college bar mass shooting in California.
A COLLEGE NIGHT GONE WRONG
At least 13 people were killed in the shooting that took place at Borderline Bar & Grill on November 7. The establishment was hosting a college night celebrating country music when a gunman opened fire at around 11:20 pm.
Ventura sheriff sergeant Ron Helus first responded to the scene after receiving reports of gunshots being fired. However, he was shot entering the bar and died later at the hospital. Eleven other victims were found dead inside.
THE SEARCH FOR ALAINA
Tamara and Adam were first alerted that their niece was missing when a friend of Alaina's tweeted that she was the only one among the college students who went to the bar who wasn't accounted for.
"My suitemate is still missing," the friend, Ashley wrote. She then described what Alaina was wearing and asked to be informed if anyone knew where she was.
Tamera immediately responded to the tweet. She introduced herself as Alaina's aunt and requested for more information privately. Separately, Adam was also in contact with Ashley but couldn't find any useful information. He tried to search for his niece at the Robles Regional Medical Center at around 3:30 am but the hospital was on lockdown and refused to let him in. What alarmed Adam, even more, was the fact that Alaina's Apple Watch and iPhone still registered her location at the bar.
STAYING POSITIVE
Adam tried to stay optimistic despite feeling helpless while awaiting news about his niece. He even responded to a tweet by writing,
"Staying positive and praying and hoping and wishing there was more I could do."
He also posted a photo of Alaina and expressed how much he loved her in his caption. He desperately added,
"I'd give my life right now for a miracle."
CONFIRMING ALAINA'S DEATH
After discovering that Alaina had died, Adam and Tamera released a statement confirming news of her death.
"Our hearts are broken. We just learned that our niece Alaina was one of the victims of last night's shooting at Borderline bar in Thousand Oaks. Alaina was an incredible young woman with so much life ahead of her and we are devastated that her life was cut short in this manner. We thank everyone for your prayers and ask for privacy at this time."
PAYING TRIBUTE TO A GORGEOUS ANGEL
In separate posts, the couple also paid tribute to the 18-year-old.
"Alaina. My sweet, sweet Alaina. My heart breaks. I'm still in disbelief. It's not fair how you were taken and how soon you were taken from us," Tamera began. She also reminisced special moments she'll always remember about Alaina before ending her message with thoughts of love.
"I love you. I love you. I love you. You are gonna make one gorgeous angel. My heart and prayers are with every victim of this tragedy."
Meanwhile, Adam appeared speechless and simply wrote,
"My sweet, sweet…Alaina. Oh how I miss you. Oh how I miss u. #heartbroken"
THE CASUALTIES
According to reports, apart from Alaina and officer Helus, there was also a recent college graduate and an aspiring Army recruit who died during the tragic shooting. The lone gunman identified as Ian David Long, a former Marine Corps veteran who suffers from post-traumatic stress disorder, was also shot and killed, though it's unclear how. 18 others were injured from trying to escape from the scene.
THE TRAGEDY OF LOSING ALAINA
Alaina was a freshman at Pepperdine University at the time of her death. She graduated from Vintage High earlier this year. She planned to major in English literature. Alaina's family has a strong presence in the Napa Valley community. Her mother, Hannah, is a Vintage High activities director and history teacher. Her father, Arik, is the owner of Ranch Market in Napa as well as Ranch Market Too in Yountville.
Vintage High principal Sarah O'Connor is saddened by the loss of Alaina who she describes as "exactly the kind of young person you want your kids to be." She adds,
"I think that's what makes this truly a tragedy."
Please fill in your e-mail so we can share with you our top stories!