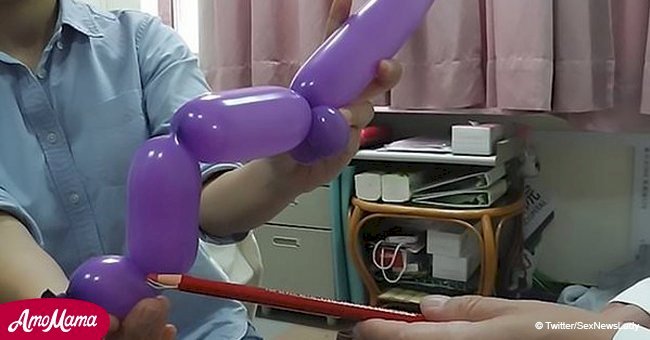 Pensioner's manhood left 'shaped like a saxophone' after 'accident' in motel
A 62-year-old man suffered from a painful injury that left his manhood looking like a "saxophone" after an "accident" in a motel.
The pensioner, Liao from Taichung in Taiwan, had met his lover in a motel. During their time together, he heard a loud crack and felt excruciating pain.
His lover then rushed him to a nearby hospital. Doctors at Feng-Yuan Hospital, Ministry Of Health And Welfare realized the man had suffered a double penile fracture.
This means the man's penis had fractured into three different segments. The Urologist, Doctor Kuo Chia-cheng was surprised by what he saw.
He described the man's penis saying "It was shaped like a saxophone and was the size of an aubergine." He used a balloon to demonstrate the shape.
The doctor went on to explain that due to the fractures the man was suffering from severe bruising and swelling by the time he got to the hospital. The severe swelling contributed to the size of the man's penis.
A penile fracture is caused by rupturing the enveloping membrane of the penis called the tunica albuginea. The tunica albuginea is a fibrous covering that envelops the penis's erectile tissue. In this case, the doctors managed to fix the ruptures.
According to the doctors, the man is recovering well. They expect him to regain full erectile function with no long-term side-effects.
"Some post-surgery effects include irregular erections or a deformed penis, but the chances of that happening are quite low - roughly 3 to 5 percent," said Dr Kuo with regards to the surgery the man underwent.
Doctors advise that men who suffer from similar injuries should get help immediately. They state that the faster one gets medical help the lower the risk of one developing erectile dysfunction.
According to Doctors, the sexual positions one uses may increase or decrease one's risk for penile fractures. "All the penile fracture patients I've met suffered their injury during woman-on-top intercourse "Doctor Kuo Chia-Cheng
Penile fractures may not be as rare as one thinks. In a similar case, a 59-year-old man's lovemaking was cut short when he suffered a penile fracture. He had been trying an exotic position with his lover when the rupture occurred.
Doctors recommend immediately putting ice on the area and seeking medical attention as soon as the injury occurs.
Please fill in your e-mail so we can share with you our top stories!