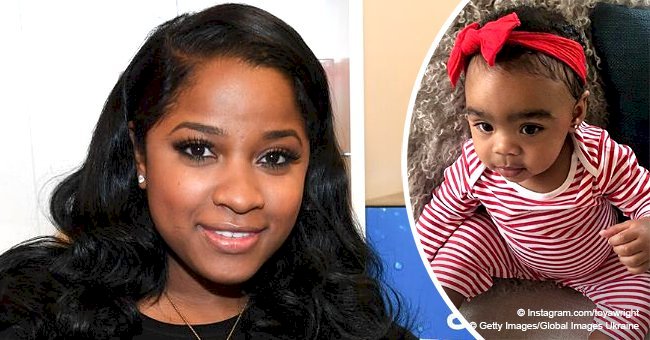 Toya Wright shares adorable photos of baby daughter in striped outfit as she turns 9 months old
To celebrate her daughter's latest milestone, reality star, Toya Wright has shared adorable photos and a video, and fans cannot get enough.
Baby Reign Rushing has always been a cute little mama, but in Toya's recent post, she seems particularly happy, almost as though she knows it's her nine-month birthday.
Reign looked impressive in a striped red-and-white onesie with a matching red bow. Her white sneakers had a glitter detail on top and red socks completed the ensemble.
In one video, Toya is heard singing "Go Reigny!" in the background as Reign pulls her best attempt to bop to the beat.
Another photo shows the little tot propped up with pillows, and in the last image, a hand supports her as she holds on to the railing.
"Awwww....she's adorable Toya....Dancing Diva"- @classylady29
"@toyawright seem like you just birth her. She's going up fast… slow down precious."- @honesti_pure_treasurez
"Oh my, she ready to walk. Next, she will be walking in Mommie shoes. Beautiful happy child"- @theehairdr
Since welcoming Reign earlier in February, the "Friends & Family Hustle" star has been updating fans of the girl's growth with the cutest pictures and videos.
When she and her partner, Robert Rushing decided to dedicate their child in church, Toya chose to make it an intimate family affair. That did not stop her, however, from taking to Instagram with photos and keeping her followers in the loop.
Reign was dedicated at the New Calvary Missionary Baptist Church in Atlanta, and the service was followed by a small get-together attended by Reign's godmother, Dee Cardriche, close friends and family, and lots of other cute babies.
Toya, 35, has also been known to play dress-up with her second daughter many times, and with a baby as beautiful as Reign, who wouldn't?
The "Priceless Inspiration" author who shares an older daughter, Reginae Carter with ex-husband Lil Wayne, once put Reign in a beautiful rainbow onesie with matching headband and white sneakers.
There was also the time she matched with her baby girl and shared the most touching note:
"In my daughter's eyes, I can see the future, A reflection of who I am and what will be. In my daughter's eyes, I am a hero, I am strong and wise, And I know no fear. I see who I want to be, In my daughter's eyes. Dear God.... thank u."
Little Reign already has quite the personality too. Last Halloween, Toya, Reginae, and Robert all dressed up as characters from Reign's favorite song, "Baby Shark." The mom revealed that her daughter gets "so hype" when the track comes on, so they had no choice but to make her happy.
We can't wait to see more photos of the cute tot as she grows. Happy nine months, Reign!
Please fill in your e-mail so we can share with you our top stories!