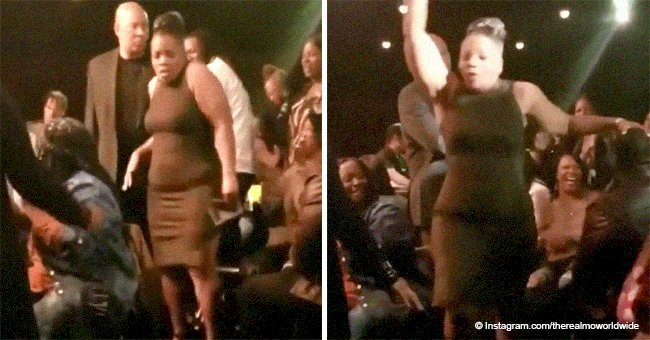 Mo'Nique shows off her slimmer figure, busts out dance moves in tight black dress
Mo'Nique is looking and feeling better than ever these days, and she proved it on one of her recent stand-up comedy shows, as she greeted her audience with cool dance moves and a slimmer figure.
The Academy Award winner was feeling herself in a recent video posted to her Instagram account from one of her comedy shows in Chicago. Mo'Nique made her big entrance into the venue walking among the audience and dancing to Lil' Wayne's "Uproar."
The 50-year-old looked stunning in a tight black dress, black platform shoes and her hair pulled up in a tight bun. She hyped the crowd with her dance moves, exuding confidence and coolness as she interacted with some lucky members on the public.
Mo'Nique matched her danced steps with some equally sassy facial expressions, just before walking away, ready to take the stage.
FANS' REACTIONS
Fans couldn't help but gush about the actress and comedian on the comment section, filling it with love and praise:
"Society have you thinking everything must be PERFECT. Newsflash isn't. Let ppl live. @therealmoworldwide I love how you kill them with kindness." - @mypridenjoys_2
"I am loving your spirit. Please continue your journey of love and laughs. Sending you love and positive vibrations." - @moniqueel_life
"You are very beautiful, and I applaud you for losing that weight you look absolutely stunning bless your heart." - @nita_mcbride
However, there were also some mean comments from haters, who criticized Mo'Nique for not having a completely flat stomach and the fact that her belly "jiggled" while she danced.
SLAMMING HATERS WITH CLASS
One particular comment caught Mo'Nique's attention, as it said:
"@jjwattshands__: Yeah I came for you Monique you goddamn right I did because you stand up that looking unprotected in a girl with all that stomach flab flipping and flopping over everything girl you should have put that [expletive] in the girdle and couldn't nobody see [it]."
"Hey my beautiful sister. Baby you came for me, but guess what I will come back with this BIG BALL OF JIGGLE LOVE. Sis there is so much anger and pain going on right now in this world, why ever would you want to add to it over my JIGGLE. Sis that jiggle is after dropping 100lbs oh and let me not forget there was 3, I said 3 human beings in that stomach."
"So if my jiggle upset you baby, send me over the stomach exercises you do and that may help. Side note: I like my jiggle, it puts my little niece and nephew to sleep when I lay them on it. It's like a soft pillow. Now if I may. Soften up sis. You know the saying "YOU GET MORE BEES WITH HONEY" I love you and as George Wallace would say, AINT NOTHING YOU CAN DO ABOUT IT."
Fans applauded Mo'Nique for her classy answer, encouraging her to keep doing herself and continue sharing her weight loss journey with them.
DANCING YOUR PANTS OFF
Earlier this year, Mo'Nique revealed that, for the first time in her adult life, she was weighing under 200lbs.
"For me it was with no surgery, no prepackaged foods, not listening to no spokespeople saying, 'it's easy, you can do it.' It was just putting in the work and not giving up on me," she said in the video. And revealed the secrets behind her weight loss achievement: "raw food," "dancing your pants off," and "giving yourself a chance to live the best life you can live."
Mo'Nique especially lives up for the dancing, and all the videos she's continually sharing on Instagram and YouTube with her dance instructor are proof of that.
She keeps achieving new goals every day and her positive mindset has inspired some of her followers to start their weight loss journey.
Please fill in your e-mail so we can share with you our top stories!