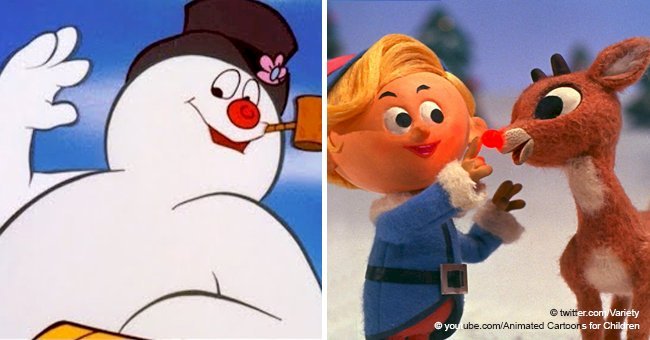 Here's a list of all the beloved Christmas specials and movies and the times they'll be airing

As the Christmas season approaches, it's time to get warm under some blankets as we re-watch our favorite classics. If you're wondering what time to tune in, we've got you covered.
There are also several brand new heartwarming Christmas flicks movie-lovers might want to watch. They'll be joining the specials that are premiering this season on networks across the nation.
CBS and NBC networks are set to air the Thanksgiving Day Parade. In addition, here's a list of the days and times of movies and specials you can look forward to. Times are in ET unless stated otherwise.
Follow us on Twitter for more @amomama.
Wednesday, November 21
"The Price is Right" will feature celebrity chef Catherine McCord. She will offer a Turkey Day-themed presentation to the host and actor Drew Carey. The special premieres at 11 a.m. ET 10 a.m. PT on CBS.
"The Bold and the Beautiful" will air a Christmas special where the characters on the show will be forced to say something nice to someone next to them. They are to sit around the table for a Thanksgiving dinner.The special airs at 1:30 p.m ET/ 12:30 p.m. PT on CBS.
Thursday, November 22
"Let's Make a Deal" will give prizewinners a trip to Belgium, a turkey fryer, a chance at winning $20,000 and two new cars.
"The Wizard of Oz" will show on TBS at 6:30 p.m. and 8:45 p.m.
At 9 a.m., the 58th annual Thanksgiving Day Parade will show. Kevin Frazier of "Entertainment Tonight" will host the special along with Keltie Knights. It will show on CBS.
Friday, November 23
"The Young and the Restless" will feature an episode filled with Thanksgiving celebrations. It also has a dark twist as one family's celebration are disrupted with an investigation. The episode premieres at 12:30 p.m. ET/ 11:30 p.m. PT on CBS.
Classics "Frosty the Snowman" will air at 8:00 p.m. on CBS and "Grandma Got Run Over By a Reindeer" will air at the same time on CW.
Tuesday, November 27
Classic "Rudolph the Red-Nosed Reindeer" will show on CBS at 8:00 p.m.
Sunday, December 2
Garth Brookes hits the stage of the Notre Dame for a special titled "Garth: Live at Notre Dame" at 8:00 p.m. on CBS.
Thursday, December 6
"Dr. Seuss' How the Grinch Stole Christmas" will show on CBS at 8:00 p.m. and "The Elf on the Shelf" on TBS at 8:30 p.m.
Saturday, December 8
CBS will show reruns of "Rudolph the Red-Nose Reindeer" and "Frosty the Snowman" at 8:00 p.m. and 9:00 p.m. respectively.
Friday, December 14
The vintage Christmas classics "I Love Lucy" and "The Dyck Van Dyke Show" will air at 8:00 p.m and 9:00 p.m respectively on CBS.
Wednesday, December 19
The CW will do a rerun of "Grandma Got Run Over By A Reindeer" at 8:00 p.m.
Monday, December 24
"A Christmas Story" will run for 24 hours from 8:00 p.m on TBS. "It's A Wonderful Life" will be aired at 8:00 p.m. on NBC.
Hallmark will also constantly be airing classics "The Santa Clause," "Disney's A Christmas Carol," and "How the Grinch Stole Christmas" throughout the month of December.
For a full list of all the Christmas themed and related airings, go here.
Please fill in your e-mail so we can share with you our top stories!