Kate Hudson reappears publicly just 5 weeks after childbirth showing off her fantastic figure
It's been five weeks since Kate Hudson gave birth to her first daughter Rani Rose she shares with boyfriend Danny Fujikawa. On Wednesday she made her first public appearance as celebrated her new role with the United Nations's World Food Programme at their event in Los Angeles.
Kate Hudson Makes a Joyful Post-Baby Appearance, Plus Chris Pratt, Prince William & More https://t.co/PTXG6Xs4Tf

— People (@people) November 8, 2018
39-year-old Kate gushed over little Rani Rose saying she is very feminine, with mom Goldie Hawn's partner Kurt Russell 'very smitten' with Rani and said:
"Seeing Kurt with her is really special. She's a Fujikawa. It's the cutest thing."
According to Kate little Rani is the spitting image of her father Danny.
Read more on our Twitter account @amomama_usa.
Kate got appointed as a Goodwill Ambassador for the United Nations World Food Programme and says as a mother herself she understands the importance of proper nutrition and its role in the life of a child and commented:
"The work of the World Food Programme is so much more than just feeding people, it's about strengthening families, rebuilding communities, and ensuring everyone, everywhere has access to the food they need to not only survive but thrive."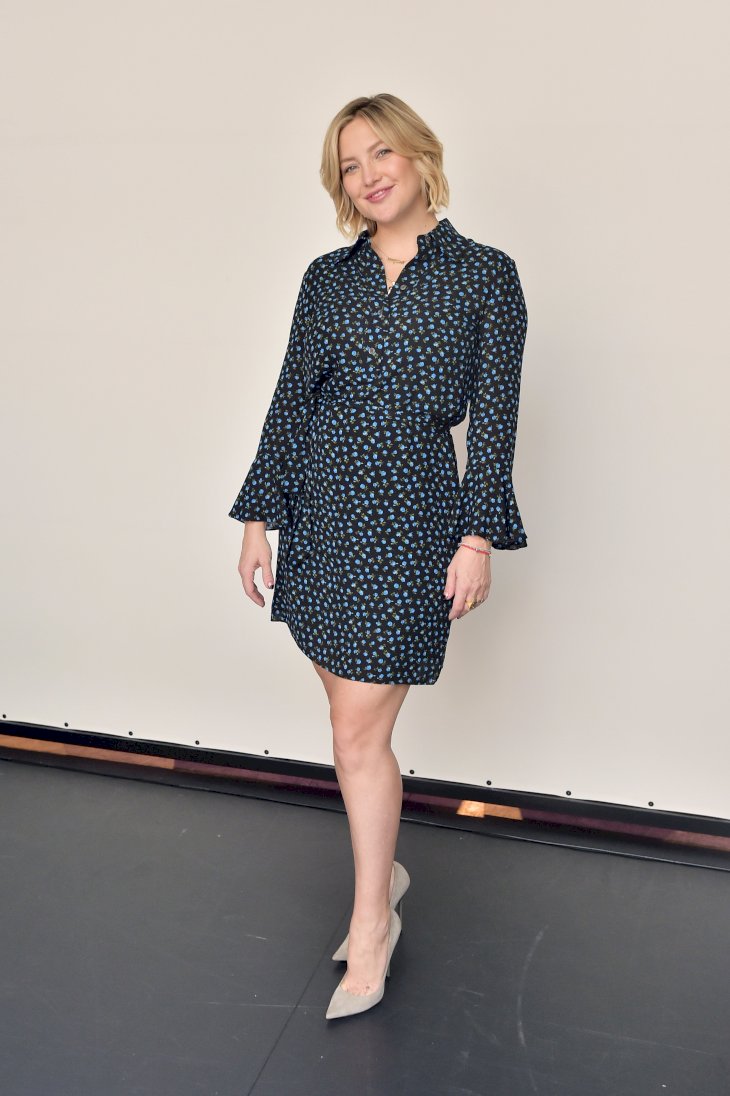 New mum Kate has always wanted a daughter, and for her, it's a dream come true. Her older sibling brothers are excited and muse that they are protective over their sweet baby sister.
With little Rani born on October 2 she celebrated her first-month milestone, Kate shared a photo of little Rani dressed in a pink head wrap and gray clothes as she posed on a pink blanket. A sign next to her read, 'One Month' in cursive writing.
Two weeks after Rani's birth Kate posted a picture on Instagram that showed her post-workout abs and captioned that she can't wait to get back into her Pilates workouts. Before giving birth she opted for less strenuous exercises and added:
"The stakes are higher because it is not about you anymore, it is about this other being growing inside of you, but right now she is kind of letting me know that we have to take it easy."
The mother of three love Pilates and have been doing it from an early age and elaborated:
"I was 19 when I discovered Pilates, and I'm still doing it. Its the workout my body really responds to. It's all about alignment, elongating your spine, and strengthening your core. It makes me feel my strongest. Pilates is always challenging. The advanced moves are amazing, but so hard."
A recent video Kate posted on Instagram melted hearts and shows Danny with his daughter, gently touching and embracing her while planting soft kisses on her little face. The song 'Not Alone' by Patty Griffin playing in the background.
On choosing their new bundle of joy's name Kate said:
"We have decided to name our daughter Rani (pronounced Ronnie) after her grandfather, Ron Fujikawa."
Kate has two boys, Ryder 14, from ex-husband Chris Robinson and 7-year-old Bingham with Matt Bellamy. Rani is Kate and Danny's first child together and can't get enough of their little girl.