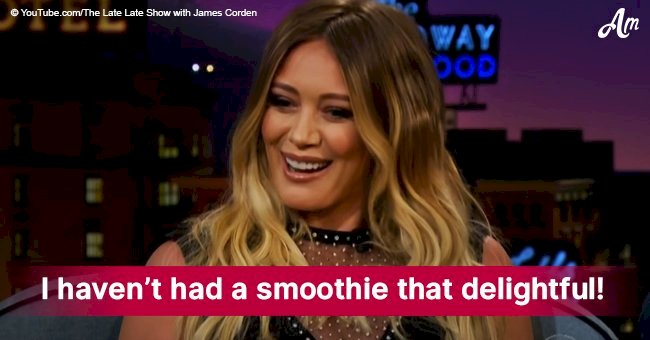 Hilary Duff surprises fans with a confession that she tasted the placenta of her newborn child
After the birth of her daughter in October, Hilary Duff drank her own placenta in a smoothie and shared her thoughts about her experience.
On October 25 Hilary Duff and boyfriend Matthew Koma greeted their daughter for the first time. Little Banks Violet Bair was born during an at-home all-natural water birth after a long labor, and the couple shared their happy news on Instagram a few days later.
Beaming with pride Matthew shared the news and wrote:
"Banks Violet Bair /// 10.25.18 /// We welcome a beautiful daughter, little sister, and best friend for life. Could not possibly be more grateful for our growing family and for the who makes it all possible. Cloud ten."
When Hilary and Matthew found out about the pregnancy, the couple was over the moon with excitement. Record producer and songwriter Matthew took to social media and wrote:
"We made a baby girl! She will be as beautiful and sweet as her mother... @hilaryduff another incredible chapter begins."
In August Hilary gave fans an Instagram update on how the pregnancy was progressing and said:
"Feeling lots of love today with every movement and kick to the bladder lol. Appreciate that this one picked Matt and I to be her mommy and daddy. We gunna crush it for you baby B. You have the sweetest big brother waiting to meet and love you."
Banks is her first child with Matthew, however, she shares her 6-year-old son Luca with ex-husband Mike Comrie.
When Hilary appeared on 'The Late Late Show' with James Corden she shared that Luca had already picked out a name for his new sibling. Luca was not too excited at first as Hilary said:
"The beginning was a little… he was surprised, and now he's warming up to the idea."
Having warmed up suggested an unconventional name. Hilary smiled as she shared that Luca thinks Cafont Croissant is the best name ever.
Ten days after the birth of Banks Hilary appeared on Dr. Elliot Berlin's 'Informed Pregnancy' podcast, however, it only got released on 8 November. During the interview she shared that she drank her placenta in a smoothie after Bank's birth and elaborated:
"It was the most delightful smoothie I've ever had. I haven't had a smoothie that delightful since I was ten. It was calorie-filled with juice and fruit and everything delicious."
Initially, Hilary was hesitant and admits to feeling a bit thrown off, however, many claims that in doing so one can prevent post-partum depression and stop the post-birth bleeding was enough of an incentive.
Hilary shared that she'd been feeling great and have put the rest in ice cube form, so she can consume it at any time, preferring to avoid taking pills.
However, Hilary is not the only celebrity that has consumed her own placenta after birth, others like Nikki Reed, Kayla Rae Reid, Katherine Heigl, Kim, and Kourtney Kardashian have all encapsulated theirs.
Please fill in your e-mail so we can share with you our top stories!