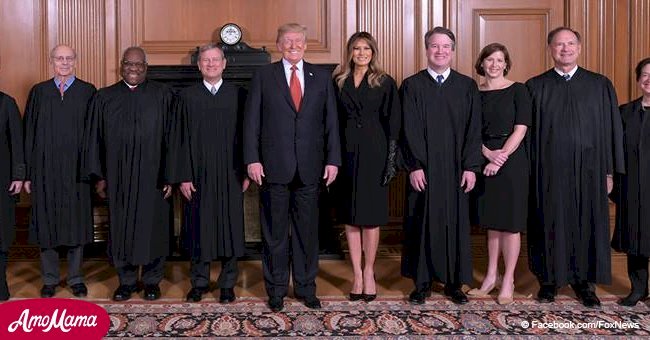 President Trump and First Lady Melania pose for a picture before attending Supreme Court ceremony

With a wide smile, Donald Trump posed next to the Supreme Court Justices in the investiture ceremony of his controversial nominee Brett Kavanaugh who was appointed despite sexual misconduct allegations.
The 72-year-old head of state attended the invitation-only swear-in ceremony in Washington D.C. in the company of First Lady Melania Trump on November 8, following a private meeting with the SCOTUS Justices.
Acting Attorney General Matthew Whitaker, who's filling in for Jeff Sessions after the latter was asked to resign from the position by President Trump, was also present in the official act. Read more on our Twitter account @amomama_usa
Following Judge Brett Kavanaugh's nomination to the Supreme Court, several accusations of sexual misconduct against him were made, but he was confirmed for the job anyways, to much outrage from women's advocates.
Retired Justice Anthony Kennedy, who occupied the seat Kavanaugh is now assuming, also attended the event. All the rest of the Justices appeared in the photo with the Trump's, except for Ruth Bader Ginsburg who had recently suffered an injury in her office and was hospitalized at the time.
As the New York Times reported, Kavanaugh's ceremonial welcome to the institution lacked a traditional public element, the walk down the court's front steps with Chief Justice John G. Roberts Jr.
Despite a spokesman citing security reasons for this, it is suggested that the event was kept in private due to the massive opposition Kavanaugh is facing for his alleged involvement in sexual assaults in his college years.
Although Kavanaugh officially assumed office last month, Republicans might have feared that making their triumphant ceremony public might have made critics show up and spoil their act.
Trump has taken the confirmation of Kavanaugh as a personal victory over the left, and he used Kavanaugh's case in the midterm elections' campaign to attack Democrats.
Following the midterms, which resulted in Democrats winning the House of Representatives following 8 years of Republican majority, Trump has kept pushing his divisive political agenda.
The appointment of loyalist Matthew Whitaker as a replacement for Sessions is seen as many as a strategy from Trump to keep obstructing the investigation about the Russian involvement in the US presidential elections.
Apart from this, Trump has just signed an executive order that makes people who enter illegally to the country through the southern border ineligible for seeking political asylum.
The move is another response to the Caravan of Migrants approaching the US from Central America, and it has been deemed illegal by the American Civil Liberties Union.
Please fill in your e-mail so we can share with you our top stories!