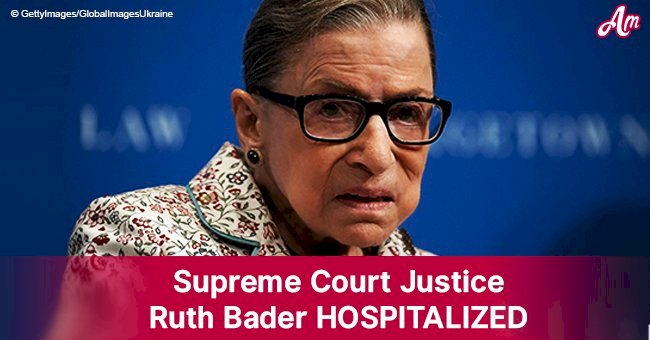 Supreme Court Justice Ruth Bader, 85, hospitalized after falling in her office last night

Justice Ruth Bader Ginsburg fell and broke three ribs in her office on Wednesday evening.
The court's oldest member returned to her home after the fall, but her discomfort forced her to go to the hospital early the next morning.
According to the New York Times, the doctors at George Washington University Hospital discovered three broken ribs on Ginsburg's left side.
Follow us on Twitter for more @amomama.
The court released a statement:
"Tests showed that she fractured three ribs on her left side and she was admitted for observation and treatment."
Assuming she recovers, Ginsburg is not likely to let the injury hold her back. A fall in 2012 left her with two broken ribs, but she returned to work without a day off.
Again in 2012, the justice underwent a heart procedure but did not stay out of her job for very long. Additionally, the cancer survivor did not wait more than three weeks after another surgery to return to work.
Ginsburg is expected to be at a sitting of the Supreme Court from November 26. She is one of only four liberals serving among nine members of the court.
Her time started in 1993 when President Bill Clinton appointed her. Prior to that, she was the director of the ACLU's Women's Rights Project.
Ginsburg, who has expressed a desire to remain on the bench until she reaches 90, is a cautious but influential justice.
Democrats have reportedly shown concern regarding Ginsburg's health. Her 25-year history with the court is now at the point of speculation over its end.
Some liberals also criticized her for not stepping down during the Obama administration. At that time, she would have been replaced with someone of the same party.
If she is to be replaced now, it is likely that the president will select someone who is more right-leaning.
In 2016, Ginsburg spoke to Nina Totenberg of NPR and said:
"I will retire when it's time. And when is it time? When I can't do the job full-steam."
If she is able to work fervently as she wishes, she will join the ranks of other justices before her. Oliver Wendell Holmes Jr. and John Paul Stevens both served until they were 90.
Justice Ginsburg has notable cases under her belt. They include gender discrimination and women's reproductive health jurisprudence. She was the second woman to serve on the high court among a total of four.
Back in October 2018, the very first woman to serve on the Supreme Court revealed health issues.
Sandra Day O-Connor was diagnosed with early stages of dementia. Her son Jay further said she was experiencing memory loss.
The illness was not new, just recently announced due to its more serious nature. It compounds other issues like hip problems which confine the former justice to her home and its nearby surroundings.
O'Connor, who broke barriers upon reaching the supreme court, retired in 2006. Thereafter she continued to "advance civic learning and engagement" until earlier this year.
We hope that both women are able to successfully get through their health challenges.
Please fill in your e-mail so we can share with you our top stories!