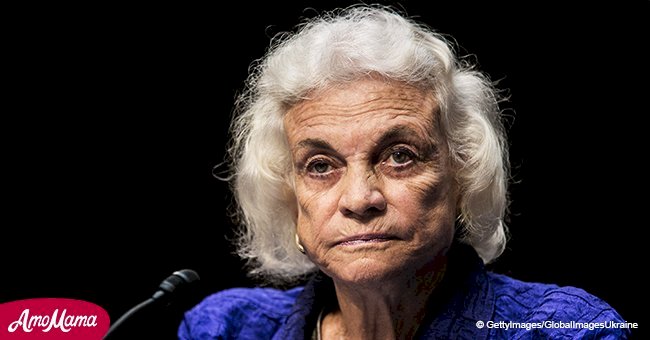 First woman on the Supreme Court, 88, opens up about her terrible disease

Sandra Day O'Connor, the first woman on the Supreme Court, announced that she was diagnosed with early stages of dementia.
The 88-year-old shared that she was starting to show signs of dementia, 'probably Alzheimer's disease,' after it was mentioned by her son, Jay, that she was having memory issues.
As reported by Stripes, O'Connor has been a great example for women connected with the law around the world, something that she never believed to be possible.
Follow us on our Twitter account @amomama_usa to learn more.
CURRENT HEALTH STATUS
Although O'Connor has been diagnosed for a while, she only decided to reveal it now because her health condition is getting worse and she can't do much these days.
The 88-year-old also suffers from hip issues, which force her to use a wheelchair to move around, so she tends to stay close to her home in Phoenix, Arizona.
SETTING THE EXAMPLE
Due to her struggle with dementia, she quit public speaking over two years ago and is no longer able to 'participate in public life', as she put it.
Becoming the first woman on the Supreme Court was a very big deal, transforming her into a role model for many women who followed the path of the law.
A FORCE OF NATURE
After retiring in 2006, she made appearances around the country, where she served as a visiting appeals court judge. According to her, she wanted to use her last years to 'advance civic learning and engagement.'
"While the final chapter of my life with dementia may be trying, nothing has diminished my gratitude and deep appreciation for the countless blessings in my life."
Sandra Day O'Connor, O'Connor Institute, October 23, 2018
TIM CONWAY
It is sad to see such an amazing woman dealing with a terrible condition such as dementia, but she isn't the only one. It has been reported that legendary actor Tim Conway is also struggling with the disease.
The 84-year-old seems to be 'barely responsive' and his daughter, Kelly, has filled the papers to be appointed as her father's conservator so she can be in charge of his medical treatments.
Please fill in your e-mail so we can share with you our top stories!