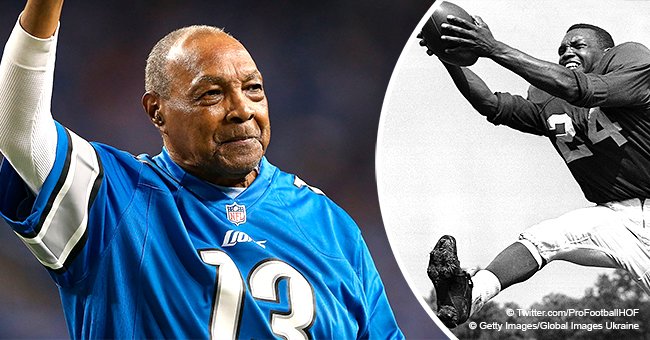 Wally Triplett, first African-American to be drafted and play in the NFL, passes away
Legendary Black NFL player Wally Triplett has died at the age of 92. He is hailed as one of the "true trailblazers" in sports history despite his short career with the NFL.
Another legendary Black man in NFL history has passed away. Wally Triplett, one of the pioneer African-Americans to be drafted in the NFL and the first to have played has passed away.
MAKING HISTORY
92-year-old Triplett, who died on Thursday morning, played for Penn State before he was drafted by the Detroit Lions in 1949. Among the three pioneering Black players to be drafted that year, Triplett was the first to play in a regular season game.
As a running back and kick returner, Triplett played for two years with the Detroit Lions before he was drafted by the army. He served in the Korean war and upon his return, played with the Chicago Cardinals for two years before retiring.
A TRUE TRAILBLAZER
Triplett played a total of 24 games in the NFL achieving 321 rushing yards and 1 touchdown. He also made 17 catches for 175 yards.
Upon Triplett's death, the Lions released a statement hailing him as "one of the true trailblazers in American sports history." The statement adds,
"He resides among the great men who helped reshape the game as they faced the challenges of segregation and discrimination."
THE OTHER AFRICAN-AMERICAN NFL PIONEER WHO PASSED AWAY THIS YEAR
Triplett's death comes in the heels of another African American who made history along with Triplett as one of the first to be drafted in the NFL. George Taliafero who was first drafted by the Chicago Bears in 1949 died last month at the age of 91. Taliafero played several positions including quarterback, running back, wide receiver, punter, kick returner, punt returner, and defensive back. He also played for several teams. Though he was drafted by the Bears, his first regular game was with the Los Angeles Dons for the All American Football Conference. After a year, he joined the NFL and played with the New York Yankees, the Dallas Texans, the Baltimore Colts and the Philadelphia Eagles. By the end of his stellar career, he amassed 2,266 rushing yards, 498 carries, and 15 rushing touchdowns, among others. He was inducted into the College Hall of Fame in 1981.
Please fill in your e-mail so we can share with you our top stories!