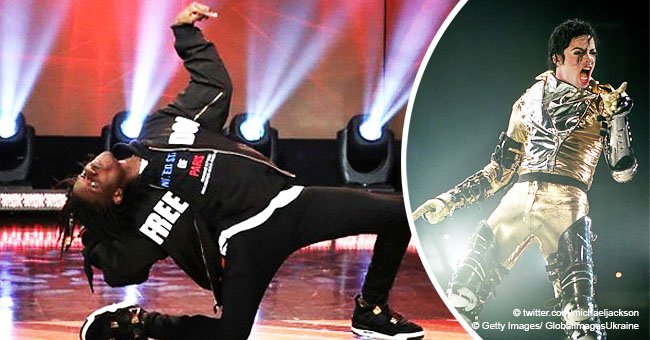 Viral dancer wows Ellen audience with his incredible 'Michael Jackson' moves
A young Parisian dancer stunned netizens all around the world with his rendition of some of the signature Michael Jackson dance moves. He flew all the way from Paris to Los Angeles to be on "The Ellen Show."
Salif Gueye moves with a fluidity that only some of the best dancers in the world can achieve. He's clearly on his element every time he's dancing, and the streets of Paris are his main stage.
The 22-year-old man earns money as a street performer, and his talent regularly leaves people wanting to see more of him. The young man has the power to attract crowds in every square where he performs, and he started recording and sharing some of his dance videos on Instagram earlier this year.
BECOMING A VIRAL SENSATION
Las month, Salif was goofing around with some friends and decided to record one of his impressive Michael Jackson's routines, dancing, or better said, gliding along the streets of Paris to the rhythm of "Rock With You."
Gueye moonwalked alongside a sidewalk full of restaurants, catching the attention of people as he passed, and earning a few screams of joy and amazement. And while Parisians caught in the video didn't show a bigger reaction to the man's talent, netizens made sure to make Salif a viral sensation.
His video earned over 1 million views on Instagram and was shared by Dwayne "The Rock" Johnson, LeBron James, Complex magazine and World Star Hip Hop.
FIRST EVER TV SHOW
The video also caught the attention of TV host Ellen DeGeneres, known for using her show to give young talent a platform to show their ability to the world.
She invited Gueye to the show, and after traveling to Los Angeles, he got the chance to talk with DeGeneres and explain a bit of his background before stunning the audience and viewers with his smooth dance moves.
He explained that Michael Jackson has been his inspiration since he was 3-year-old, and revealed that he never took dance classes but learned on his own.
Salif also revealed that one time he earned €400 in one day, and since his phone had broken the day before, he went straight to an Apple store with his coins to buy a new one. The dancer seemed shy and humble on the show, asking Ellen if she was real and expressing how overwhelming it was for him to be on TV.
"Dreams do come true; I never thought I would be here one day, thank you," he said to the jovial host, who paid back the comment by complimenting Salif and his dance moves.
He then took the dance floor to show off his ability dancing to Michael Jackson's "Black or White," moonwalking, doing the circle glide, the leg kick, and the impressive anti-gravity lean.
"IT'S ONLY THE BEGINNING"
After the presentation, Ellen asked Salif to keep posting his videos and promised him she would keep sharing them on social media.
"Dreams do come true and is only the beginning. Thanks my people for support and all the love u send to me. Thank u all. Thank God. I love u all,[sic]" he wrote on Instagram.
Read some of the netizen's reactions to Salif Gueye below:
A MICHAEL JACKSON IMPERSONATOR GOES VIRAL
On a similar note, Jeffrey Perez Jr., a Michael Jackson impersonator, was also featured on Ellen's show after a video of him singing an acapella version of "Leave Me Alone" went viral. The man not only sounds like the late King of Poo, but his makeup skills are so impressive that he manages to look like Jackson too.
The video of "Leave Me Alone" has received more than 2 million visits, and earned the performer national recognition and an opportunity to be featured on "The Ellen Show."
There, Jeffrey was given half an hour to get into character, when he would generally take two, and he performed "Pretty Young Thing."
Please fill in your e-mail so we can share with you our top stories!