Dad surprises his daughter by turning up at school on Veterans Day
A little girl had the best surprise when her soldier-father showed up at her school for Veteran's Day.
Throughout the United States, November 11 is a special day. It is Veteran's Day and the anniversary of the Armistice that ended World War I in 1918.
In 1996, it was declared that November would also be  Military Family Month, and one military family from  Massachusetts had a particularly inspiring and touching day, and their story was posted on Facebook/The Enterprise of Brockton on  November 10, 2018.
A SURPRISE ON VETERAN'S DAY
Second Lieutenant John Lombardo is a Massachusetts Army National Guardsman, and he has been away from his family since July, stationed at Fort Benning, Georgia.
He was coming home for Veteran's Day and decided to surprise his young 1st grader, Emelia at L.B. Merrill Elementary School. When she saw him, her reaction would astound him, and bring tears into his eyes.
A LITTLE GIRL'S WELCOME TO DADDY
When little  Emelia saw her father she threw her arms around him, and wouldn't let go. The tiny tike had tears in her eyes as she hugged her father as tight as she could. Lombardo was deeply moved by her gesture, which demonstrated how much Emelia had missed him.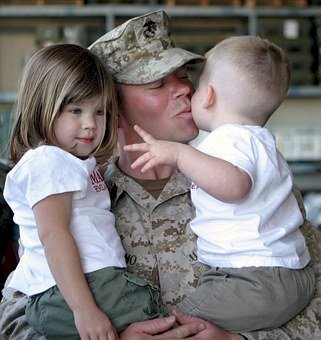 THE LIFE OF A MILITARY FAMILY
Lombardo revealed his admiration for his wife's strength and determination. She is caring for the couple's three children, of which Emelia is the oldest at 6, mostly on her own as he is often stationed away from his family.
Military Family Day serves to remind people that the men and women who serve the Nation in the armed forces have families who pay the price of their devotion, missing their spouses and parents who spend so much time away risking their lives for the safety of all.
Read more on Twitter Amomama USA.
MOM SEES HER BABY AGAIN AFTER 6 MONTHS AWAY
How many mothers could stand being away from their tiny toddler for months at a time? For some women, this is a heartbreaking necessity, reconciling their work as soldiers with their role as mothers. 
 Air Force Staff Sergeant Chelsey Speicher was deployed in Jordan for 6 long months, and that was how long she was away from her two-year-old son. Bennet.
Though she had chatted to her son frequently on video, she longed to hug her baby. Finally, the joyful day arrived and her little family was waiting for her at the Georgia airport.
When Speicher saw her son approaching, she dropped to her knees and held out her arms for the biggest, sweetest hug in the world.
Speicher doesn't know where or when she will be deployed next, but she will be making the most of her precious time with her son and her husband.