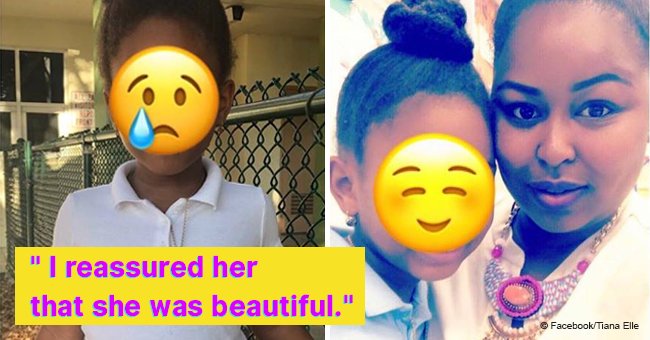 Teacher went viral for supporting a bullied student by rocking matching 'honeybun' hairstyle
A Florida teacher has melted hearts nationwide after she stepped forward to support one of her students who was being bullied because of her hairstyle. The teacher showed the girl that there was nothing wrong with her hairdo by wearing the same style as her.
Tiana Elle became an internet viral sensation after sharing the story of how she helped one of her first graders to feel good about herself with a simple act.
Elle, a teacher in the Broward County Public Schools system, recounted on a Facebook that one girl in her class was upset because her classmates were making fun of her "huge honeybun" hair. The teacher explained that the girl usually has her hair braided down, so the rest of the children had never seen her with a bun.
Tiana, who's always making sure to teach self-love to her students, comforted the child by telling her how beautiful she is and explained to her that real beauty comes to the inside. She also said to the girl that her "honeybun" is her crown and she had to "own it."
However, she took one more step to let the girl know that there was nothing wrong with her hairstyle and the next day, she attended class wearing a "honeybun" as well.
"So, I decided to wear her hairdo today, and now we're twins. And even though she tamed hers down a bit, she was so happy to see that I rocked that same "honeybun," Tiana wrote on Facebook. And continued:
"She came in and said "I'm going to wear my honeybun all week! I like it!" My baby has a pep in her step today, an extra twinkle in her eye and she's living her best 1st-grade life!"
Elle's post has received over 33k reactions, 1.5k comments and has been shared 5k times.
People from all over the country praised Tiana for being such an excellent example for the young girls in her classroom, saying that America needs more educators like her.
Talking to Bossip about the situation, Elle explained that she's making sure to teach everything about self-esteem to the young girls in her classroom, saying:
"We have to teach our young queens how to dance in THEIR reign. We have to unite, uplift and inspire them. Just like flowers, we have to pour into them daily for them to grow; for them to flourish. Self-love is a subject taught daily in my classroom. Once they learn that, they'll NEVER forget it. Cherish the way YOU sparkle!"
The Florida A&M University later revealed that after her post went viral in just a couple of days, The #1 Children Braider, a famous hairstylist for kids in Florida, offered the girl a free hairstyle.
The girl, with the help of her mother, chose a he "halo braid," or the "crown" as Elle decided to call it. She added on her Facebook post:
"Our princess traded in her "honeybun" crown for a "halo" crown and guess what? That's okay! She's STILL beautiful. She's STILL dancing in her reign. She's STILL an inspiration for so many. She's letting us know that wearing our crown is SOLELY a mindset."
"Continue to glow from the inside out, and your crown will always be there. Real queens adjust each other's crowns and notice when our princesses crowns need some adjusting as well."
Elle's student was surely left feeling overwhelmed after going through such an emotional ride in less than a week. But with the support of her lovely teacher and her mother, she must be feeling like a real queen right now.
A FATHER PAINTS HIS NAILS TO SUPPORT HIS SON
On a similar note, a father of three also went viral after sharing the story of how his son was bullied by his classmates for wearing nail polish.
Aaron Gouveia, a former journalist turned blogger, explained that his 5-year-old son, Sam, decided to wear nail polish to his kindergarten because he doesn't a have a concept of nail polish being a "girls' thing." But apparently, his classmates did have a problem.
The boy was bullied the entire day to the point where he was sobbing by the time his mother picked him up from school.
"I know these kids are only in kindergarten but this toxic masculinity bs is LEARNED. Learned most of the time from parents. So, parents, I hope you're proud. I hope this is what you wanted. I hope you're satisfied," the angered dad wrote on Twitter.
"But I want you to know I talked to Sam, and I told him those other kids are just jealous of his nails. I told him to wear an even brighter shade tomorrow. And I told him to ask these kids why they're so upset and see what they say."
To show his son that there was nothing wrong with his nail polish, Aaron also decided to paint his nails with a lovely shade that his son chose for him.
Please fill in your e-mail so we can share with you our top stories!