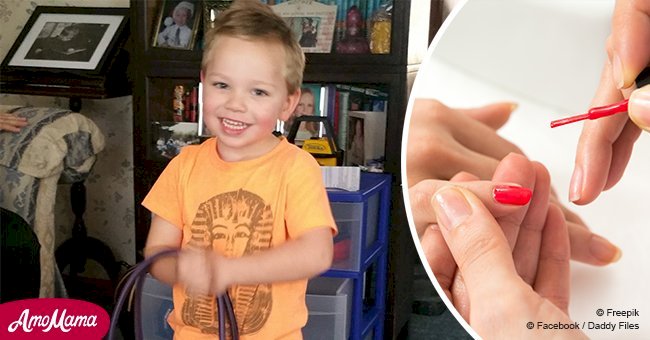 Little boy was bullied at school for nail polish, father found out and responded brilliantly
Former journalist turned blogger dad took to Twitter after his 5-year-old son came home crying for doing what makes him happy and being ridiculed for it.
Aaron Gouveia is a dad of three under the Twitter name, Daddy Files, and on October 22 he posted a series of tweets regarding an incident at his 5-year-old boy, Sam's kindergarten.
His mum picked him up after school and he was in tears, once home Sam phoned Aaron uttering through sobs:
"Daddy, I want mommy to take off the nail polish so they don't make fun of me."
Aaron got angry as he describes Aaron as a 'boy's boy' because he is 'always dirty' and 'rough and tumble' and 'loud.' But he also likes what is described as 'girly things,' like painting his nails, because he loves bright colors and thinks it makes his nails look beautiful, he also has a range of handbags because he likes to 'carry things around.'
Sam had gone to school that morning wearing red nail polish but his classmates bullied him by calling him names and telling him to take it off. He was mortified at how the kids at school treated him, including his friends.
After Sam asked the kids to stop it only got worse and only one other kid stood up for him. In an effort to console Sam he told him that the nail polish looked 'badass' and the only thing that mattered was whether he liked his nails.
"This is my son, Sam. He's 5. And today he learned how s***** and harmful Toxic Masculinity is. So he proudly wore his red nail polish to kindergarten this morning because Sam has absolutely no concept of nail polish only being for girls or reason to think anyone would possibly have a problem with beautiful nails."
His anger clearly conveyed in his words as he continues:
"My rage meter is spiking right now so excuse me if this is a little raw but there are some things I want to say about BS gender norms."
Adamant to speak his mind Aaron went on to say:
"I know these kids are only in kindergarten but this toxic masculinity bs is LEARNED. Learned most of the time from parents. So, parents, I hope you're proud. I hope this is what you wanted. I hope you're satisfied."
"My wife and I spent five years successfully preaching tolerance, acceptance, and the importance of expression and your kids unraveled that in one school day. He now feels the shame you desperately want to associate with being different."
In showing further support for his son he added:
"But I want you to know I talked to Sam, and I told him those other kids are just jealous of his nails. I told him to wear an even brighter shade tomorrow. And I told him to ask these kids why they're so upset and see what they say."
He went on to convey his thoughts:
"I bet they don't know. I bet their parents don't even know. But what I do know is Sam is a goddamn fireworks show of a human being and I won't let that be dulled for a second by this restrictive bulls*** that's been choking boys forever."
After speaking to Sam, dad Aaron told him that it was ok to take the nail polish off if he wanted to, but after some consideration, Sam left the red nail polish on, noting that 'its pretty and good luck for The Patriots.'
To support Sam, his older brother painted his nails as well, with dad following suit after Sam picked a color for him.
Aaron's twitter thread gained a lot of support, many replies pictured other boys and men with nail polish on their hands and toes, saying that they do it often, and also see no problem with it.
Others joined in and painted their nails even though they normally don't to help prove the point. Its nothing to be ashamed of and there is nothing wrong with it.
Bullying in any form is serious, and should not be taken lightly. In some cases, it goes to extremes. In September a horrific incident took place in Perth Australia when a 10-year-old girl with a heart defect got hung from a tree with a skipping rope by fellow students at Queen of Apostles Catholic School in Riverton.
Amber Yoon is half the size of most children due to her heart condition and mum Belinda Yoon have spoken to the headmaster before regarding previous incidents of Amber being bullied. Belinda says Amber is traumatized and genuinely thought she was going to die.
A teacher arrived in time and let Amber down from the tree. No arrests have been made and police say they are still busy investigating the incident.
With a good portion of bullying happening while kids are at school, it is important for teachers to act when they notice or hear about bullying going on at school,
The kids are away from the supervision of parents and amongst their friends, feeling freer to act on their impulses.
A fourth-grader William Gierke got humiliated and bullied by his classmates for wearing a pink shirt in support of breast cancer awareness. William got shamed and bullied for wearing that pink shirt and was heartbroken when he returned home after school.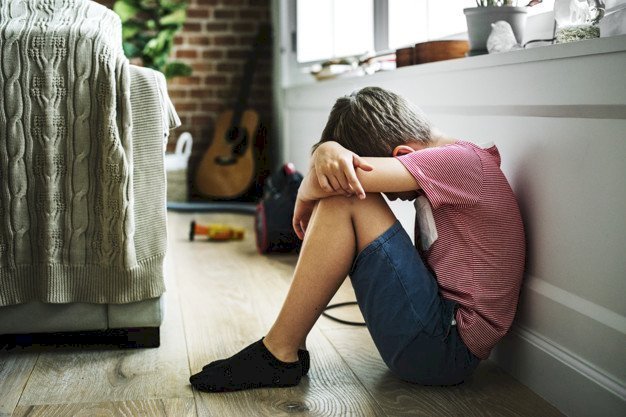 Source: Freepik
His mum encouraged him and even though he was too scared to return to school the next day but ended up going. When William arrived at school and entered the classroom, he got quite the surprise.
His teacher, David Winter, stood in front of the class, and he wore a pink shirt, and he continued to wear one every day for the rest of the week to support little William. It made all the difference in the world. The bullying stopped and William felt supported.
Bullying is damaging on an emotional and psychological level and should never be tolerated or brushed off.
Please fill in your e-mail so we can share with you our top stories!