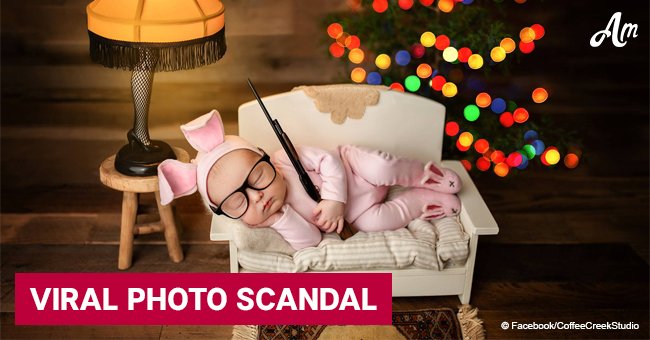 Photographer defends viral photo of baby posing with a gun claiming it's not encouraging violence
A photo of a newborn baby holding a toy gun has taken the internet by storm.
The Shelbyville-based photographer Amy Haehl from Coffee Creek Studio defended the photo shoot, saying in no way was it meant to promote gun violence.
Read more on our Twitter account, @amomama_usa. The photo can be seen below.
In the photo, baby boy Ralphie is wearing a pink bunny outfit while holding the toy gun. A Christmas tree can be seen in the background.
Haehl added a disclaimer to the photo that "the BB gun is made of wood to ensure that he did NOT shoot his out during the creation of this photo."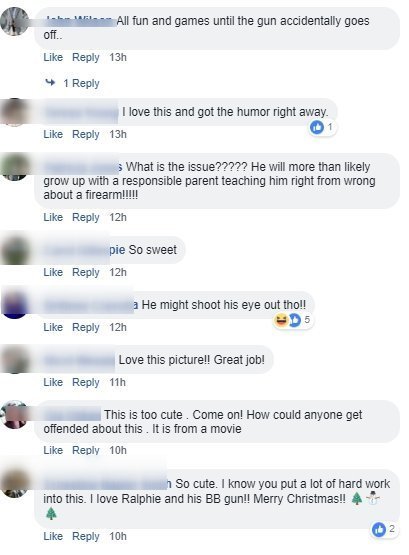 Source: Facebook/Yahoo
The photo set up was made to resemble a scene from the movie "A Christmas Story," but that explanation wasn't enough to keep the critics at bay.
Several users on Facebook raised their concerns that the photo would be promoting gun violence, while plenty of Haehl's fans said they would be unfollowing her.
One user asked: "Who the hell would take a picture of a baby and a gun just for money. Such a waste since you are so talented."
Another said the photo was in bad taste and wanted to know how the parents "of the babies that were killed in Newton would feel looking at this photo."
She added that guns are never cute, "not even as a prop or movie reference," while another user said it was disgusting and hoped that none of Haehl's babies "are ever shot."
True to form, the gun-loving netizens also showed up to commend Haehl for her work, telling her not to be worried by the "snowflakes who offend so easily."
"This photo is not about a baby posed with a 'gun'… it is about love, tradition, family, and happiness. This movie has encouraged smiles, laughter, and happiness for 35 years."
In stark contract against the privilege of white America, many netizens will recall another photo that took the internet by storm not so long ago:
A photo of a screaming 2-year-old at a U.S Border went viral and had since become a symbol of Trump's zero tolerance border policies.
Through this policy, hundreds of children were forcibly removed from their parents in kept in prison-like conditions. The photographer who snapped it, John Moore, said:
"I wanted to stop her crying. [...] Nothing could be said with her. She needed to be with her mother."
Please fill in your e-mail so we can share with you our top stories!