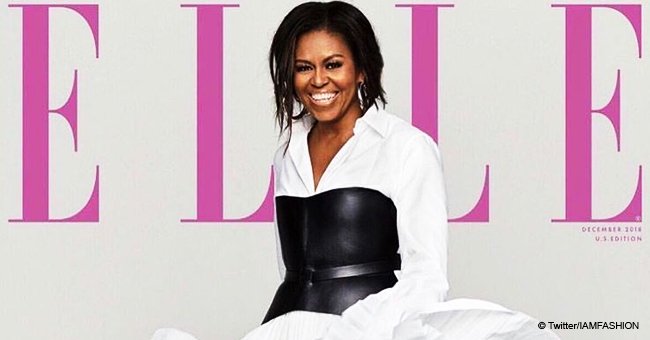 Michelle Obama rocks $2,400 leather corset and black high heels on the cover of Elle Magazine
As her new memoir draws tremendous attention, Michelle Obama dons a leather corset and lures interest towards her latest cover for Elle Magazine. Along with her edgy style, the former first lady lends substance to an interview with Oprah Winfrey.
Michelle Obama has been an icon of style and substance and these are exactly what she delivers in the December 2018 issue of Elle Magazine.
ON THE EDGE OF STYLE
Michelle breaks style barriers in her latest cover where she dons an edgy $2,400 black corset over a white collared shirt and peasant skirt. She matches the Dior ensemble with a pair of lace-trimmed black high heels and a trendy hairstyle proving she can rock the fashion-forward vibe. Photographed by Miller Mobley, the 54-year-old ruffled her skirt as she smiled for the camera in what promises to be an iconic cover.
To complement her impressive style, Michelle sat down with Oprah Winfrey and lent substance to the discussion of her memoir, "Becoming." Among other things, the 54-year-old opened up about life after the White House and the role of counseling in her marriage to Barack Obama.
THE TOAST STORY
After eight years in the White House, Michelle realized it's the simple things in life she missed while assuming the role of First Lady. For instance, the task of making toast. As First Lady, everybody was doing things for her and her family. But back in the real world where she is now, she delighted in making her own toast. She told Oprah,
"I go downstairs and open the cabinet in my own kitchen -- which you don't do in the White House because there's always somebody there going, 'Let me get that. What do you want? What do you need?' -- and I made myself toast. Cheese toast,"
"Then I took my toast and I walked out into my backyard. I sat on the stoop, and there were dogs barking in the distance, and I realized Bo and Sunny had really never heard neighbor dogs. They're like, What's that? And I'm like, 'Yep, we're in the real world now, fellas.'"
GRASPING FOR A QUIET MOMENT
Michelle also realized that she missed the quiet moments of reflection she never had time to do in the fast-paced world of politics.
"It's that quiet moment of me settling into this new life. Having time to think about what had just happened over the last eight years. Because what I came to realize is that there was absolutely no time to reflect in the White House."
Michelle recalled how busy she was she would often forget visiting countries.
"We were busy. I would forget on Tuesday what had happened on Monday. I forgot whole countries I visited, literally whole countries."
"I had a debate with my chief of staff saying, 'You know, I'd love to visit Prague one day.' And Melissa was like, 'You were there.' I was like, 'No, I wasn't. Wasn't in Prague, never been to Prague.'"
THE BENEFITS OF MARRIAGE COUNSELING
Michelle opened up about her marriage and how counseling was instrumental in keeping it together.
A meticulous planner, Michelle initially struggled to keep up with her husband who was her total opposite. But she eventually learned to "swerve" with him.
"I met this guy Barack Obama. He was the opposite of a box checker. He was swerving all over the place. Barack Obama taught me how to swerve. But his swerving sort of, you know, I'm flailing in the wind."
But like any marriage, Michelle confessed hers required a lot of work which is why they resorted to counseling.
"There was work we had to do as a couple. Counseling we had to do to work through this stuff."
Through counseling, Michelle realized that she needed to explore her own happiness with Barack's support. She told Oprah that counseling allowed her to accept her "vulnerability" and became "an important part of my journey of becoming."
"Understanding how to become us," she adds.
OTHER CONTROVERSIES SURROUNDING HER BOOK
Michelle spoke about other issues she brought up in her book including her reluctance when Barack decided to run for president and the pressures that came with becoming the first black family. She also opened up about going through a miscarriage and conceiving her two daughters through IVF.
One of the more controversial topics she explored was her despise for Donald Trump which became even more controversial lately when the US president responded to it. In her book, Michelle says she could never forgive Trump for putting her family's safety at risk. The outspoken president clapped back recently and said he too could never forgive Barack for depleting US military funds.
"What he did to our military – because she talked about safety – made this country very unsafe for you and you and you," he ranted.
Michelle's book is certainly stirring up flames and it's not surprising. Anything the former first lady does deserves attention. It just so happens she can't please everyone who devotes time tending to her business. And it's really just part of becoming Michelle Obama.
Please fill in your e-mail so we can share with you our top stories!