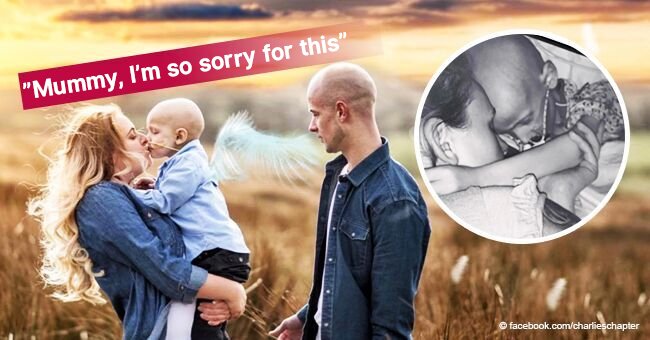 Boy with cancer died in his mother's arms after telling her: 'Mummy, I'm so sorry'
After her little boy lost his nearly 3-year-long battle with a rare cancer, a devastated mother took to social media to give her son the final goodbye and to thanks thousands of people for their support.
Amber Schofield and her husband Ben Procter documented and shared the journey of their 5-year-old son Charlie in a Facebook page since he was diagnosed with the illness in 2016 as a way to collect funds for his treatment.
"Charlie's Chapter" went on to grow a more than 30.000-people following thanks to the family's efforts to make their child's story be known to as many people as possible with the hope of helping Charlie beat cancer.
Sadly, Schofield had to post the message she feared the most on November 9, when she delivered the news of Charlie's passing in his parents' arms. Read more on our Twitter account @amomama_usa
"You have been, not only our biggest inspiration but you have been an inspiration to thousands of people all over the world […] Now it's time to fly, I am so, so proud of you. You fought this so hard."
-Amber Schofield, Facebook, November 9, 2018.
The couple had managed to collect £360,000 ($463,678) thanks to the contributions of many people who were touched by Charlie's courageous fight for staying alive, with the intention of taking the child to the US to be treated.
But their hopes were crushed when the doctors told them that Charlie's condition was too bad for him to seek treatment and that his time was running out. All they had left to do was to try to enjoy their time together with him.
A few hours before informing the public about Charlie's death, Schofield had shared one of the last things her boy told her, in a devastating post on which she revealed that she could barely recognize him anymore.
"He no longer looks like Charlie. He's so thin, I can see and feel every bone in his tiny body, his sunken face, his rolling eyes. Where has my chunky baby gone?" the mother wrote.
"I want everyone to remember Charlie for who he is. I want them to remember how he looked, how cheeky he was, how hilarious, how grumpy he was because right now Charlie isn't any of those. He's sad, he's tired, he's fed up and depressed," she admitted.
Schofield then told about an episode that made her feel like it was the time for her son's suffering to end, for she wanted to spare him the feeling of being helpless and standing in the way of his parents.
"Charlie, at one point, turned to me and said in the most quiet, panting voice, 'Mummy, I'm so sorry for this.' He was sorry because he wanted to move again and he felt he had to apologise for that?" she wrote.
"If Charlie's fate is to go, then I'd of rather the angels took him weeks ago before he suffered anymore," she added without knowing that on that very day, he was going to breathe his last breath.
When Schofield and her husband learned that chemotherapy was not working and that Charlie's cancer was inoperable, they focused on building their last memories with him and giving him the best time possible.
Before Charlie lost the little strength he had left, the family went on a trip to Greece where the child had a great time riding a speedboat and swimming, but soon, he was feeling so sick that he rarely left his bed.
When facing such a tragic situation, parents want to do all they can to make up for the early departure of a child.
Please fill in your e-mail so we can share with you our top stories!