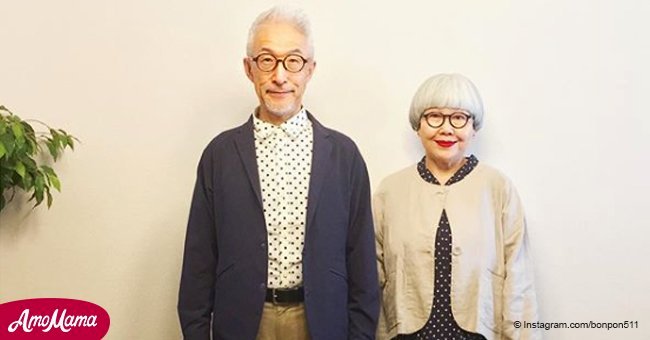 Instagram famous Japanese retirees wear matching outfits every day
A retired couple from Japan gained a massive following after their dress style became viral two years ago, and changed their life completely.
The couple behind the Instagram handle 'Bonpon511,' gained a massive following for something other than the normal run-of-the-mill posts since late 2016.
Tomi and Tsuyoshi Seki from Japan have always shared a similar taste in clothes and one day their daughter took pictures and posted it to her Instagram account. She received so many comments that she urged her parents to start their own Instagram account.
In late 2016 that is exactly what they did, combining their nicknames as children (Bon and Pon), together with their wedding anniversary (May 11) the name of their Instagram account known as Bonpon511 got created.
The couple has been married for 38 years and poses for unique pictures every day, dressing in similar clothes with the courtesy of their iPhone mounted on a tripod. Their efforts have earned them 769,000 followers and praise from the fashion world.
Read more on our Twitter account @amomama_usa.
Tomi elaborates:
"Of course, we're happy to be described as style icons in the media, but that's not really how we see ourselves. We wear simple, inexpensive clothes that anyone can buy."
The college sweethearts buy the majority of their wardrobe from the inexpensive Japanese supermarket Uniqlo and other high street chains.
To date, the couple has published two books in celebration of their married life and launched their own range of clothing at the Japanese department store 'Isetan Mitsukoshi.'
For Tomi and Tsuyoshi life changed completely after the first pictures of their clothing styles got posted on Instagram as it did for Holly Lawler. A sassy 3-year-old from Dublin also gained a huge following on Instagram when mum posted pictures of little Holly wearing fashionable styles.
Holly loves having her picture taken, with a predisposition for modeling she dresses up and models in a variety of poses inspired by various IG Icons.
She enjoys to dress up similarly to grown-up fashionists like Dominique Nugent, Erika Fox, and Melissa Carter. People started asking about the clothes little Holly wears, and that started the beginnings of mum making a new clothing line for children and adults alike.
Interesting enough, couples matching their clothes, like with Tomi and Tsuyoshi Seki from Japan, have roots that go back several decades in South Korean history.
Matching outfits have emerged as a popular style for the love-struck, particularly in college towns and youthful neighborhoods. Decades ago traditional honeymoon attire got discarded and the Korean newlyweds would coordinate their outfits instead, signaling the period of their honeymoon.
After a while, couples adopted the same style of wearing matching outfits during the early stages of their relationship.
Please fill in your e-mail so we can share with you our top stories!