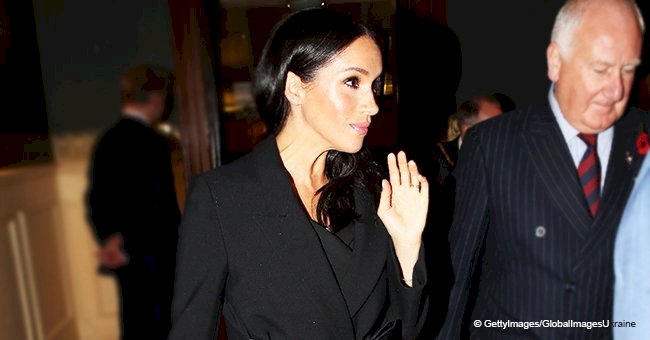 Meghan Markle's stunning debut in an incredible gown at the Festival of Remembrance
The newlyweds, Meghan, and Prince Harry attended their first royal engagement since returning from their royal trip as they remember the fallen.
On Saturday night the royal family arrived at the Royal Albert Hall for the Royal British Legion Festival of Remembrance, to honor those who have died in service of their country.
Prince Harry and Meghan joined Prince William, Kate Middleton, The Queen, Prince Charles and the Duchess of Cornwall. Also in attendance was the Duke of York, the Earl, and Countess of Wessex and Vice Admiral Sir Tim Laurence.
This rather serious celebration also marks the first time newlyweds Meghan and Prince Harry attended a royal engagement as a married couple since Princess Eugenie's wedding in October.
Meghan wore a stylish black Stella McCartney coat with a black dress underneath commemorating the woman and men who have lost their lives in conflicts.
Sunday marked the 100th anniversary of the signing of the Armistice and is also Remembrance Sunday where Meghan and Prince Harry paid their respects at The Cenotaph for the annual Remembrance Day Service.
It was Meghan's first time watching the Whitehall Cenotaph service from a balcony adjacent to the Queen,92, Camilla Parker Bowles, 71, and Kate Middleton, 36. The Duchess of Sussex wore a black woolen coat with a cap sleeve design, fastened together with one large black button.
A red poppy got pinned to the left side of Meghan's chest and she donned a small black hat propped toward the right side of her head, finishing off her look with small silver stud earrings and nude-colored lip gloss.
The fact that Meghan did not share the same balcony with the rest of the royal woman raised eyebrows.
However, sharing a balcony with Elke Büdenbender, the German president Frank-Walter Steinmeier's wife served an ambassadorial role and acted as a display of stronger ties between the two countries.
The balcony where the royal woman stood had only space for three, and as a sign of respect for etiquette and her superiors, Meghan went to a separate balcony.
Meghan is very much her own person, with her warm and engaging demeanor, but also her unusual clothes, being more modern in fashion sense that we have come to expect from the Royals.
Being very conscious of what styles of clothes she wears, Meghan revealed in a recent interview that even though she loves Victoria Beckham's dresses she can never do one justice, as she does not have the upper body length the dresses require and Megan said:
"Now what I'm starting to learn is, even though things look amazing on the hanger, it doesn't mean they're going to look amazing on me. For example, I love Victoria Beckham dresses, but I don't have a long torso to support that silhouette."
It is believed that Meghan's fashion style got inspired by her TV character, Rachel Zane in the series 'Suits.'
Please fill in your e-mail so we can share with you our top stories!