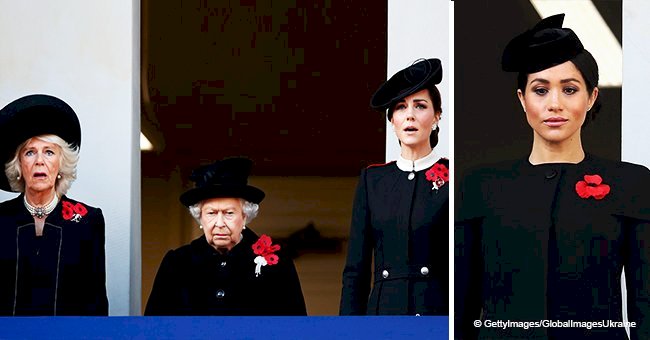 Meghan Markle didn't stand with the Queen, Kate, and Camilla at the Remembrance Day ceremony
Meghan Markle had a more prominent position at London's Remembrance Day Ceremony this year. But it was still less than fans expected.
There's a reasonable explanation for why the Duchess of Sussex did not join the high-ranking members of the royal family. Even if it was her first official Armistice Day service, the royal protocol was still in place according to People.
After seeing Prince Charles lay the wreath on the centenary, the camera diverted to the three royal women. Queen Elizabeth II, the Duchess of Cambridge, and the Duchess of Cornwall all stood together.
Noticeably absent from among the three was Markle. She stood on a separate balcony alongside Elke Büdenbender, wife of the German president Frank-Walter Steinmeier.
As she looked down from the Cenotaph war memorial, fans might have wondered why the new member of the royal family wasn't with the others. The simple explanation is that it all came down to royal etiquette.
Markle's position was not meant to slight her as some might think. But due to the space available on the small balcony, there was only room for three. As a way to respect her superiors, then, Markle took her place in another balcony.
Her position on the balcony at the Foreign and Commonwealth Office Building still held a lot of honor, just not as much as the others.
Markle's position next to Büdenbender reportedly assisted in improving relations. It was an ambassadorial role since the German president's wife was there as a display of stronger ties between the two countries.
The Duchess wore a black coat and matching hat. Her hair was worn in a neat low bun. Her sister-in-law Kate Middleton wore a similar outfit.
Middleton donned a black coat as well with a distinct white collar. All the women wore red embellishments on their shoulders as tribute.
Prince Charles' act of placing the wreath was done by request of the Queen. It wasn't the first time she had passed her duties over to the Prince of Wales and is not believed to be the last.
Royal fans are wondering why Markle was not front and center with her British relatives. But last week, they were asking a different question.
The midterm elections were a huge event in the United States last week. Many were curious as to whether or not Markle had cast her vote. Unfortunately, they might never know.
The Duchess advocated for women and gave a recent speech about voting rights in New Zealand. Yet she herself won't likely be voting in the future.
Senior royals are discouraged from the act as a way to remain neutral in politics. And when People inquired about Markles' voting in the U.S., they simply responded "no comment."
Please fill in your e-mail so we can share with you our top stories!