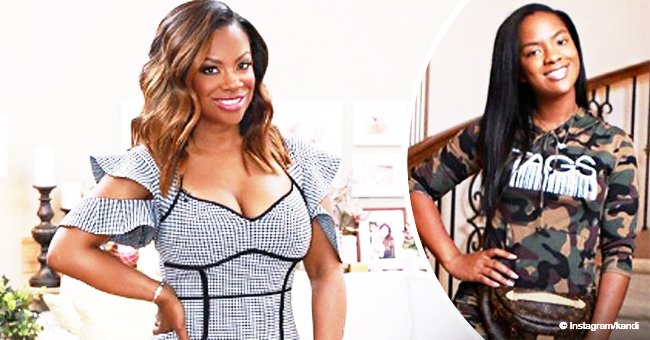 Kandi Burruss posts photo of teen daughter Riley in camouflage dress after her drastic weight loss
Reality TV star Kandi Burruss took to Instagram to share a slideshow of her beautiful daughter wearing a camo outfit that made her look even better after shedding some pounds.
In the first image, Riley appeared wearing white and brown shoes while showcasing her figure in a camouflage dress. The second and third part of the post portrayed her in different poses.
For the caption, Kandi wrote that her daughter looked "super cute" in her "hoodie camouflage dress" and urged people to check out that outfit and several others at their website.
PEOPLE'S REACTION
One of the aspects that attracted more attention was how skinny Riley looked, a fact that was praised by Kandi's followers who took to the comment section to share their thoughts. One of them pointed out that her waist was "snatched" and that she looked "fabulous."
PRAISING RILEY'S WEIGHT-LOSS JOURNEY
It was not the first time that Riley made headlines regarding her weight-loss journey. In June this year, Kandi uploaded a photo showing her daughter in September 2017 next to one portraying the 16-year-old girl in June 2018.
Even though the difference was evident, Kandi made sure to emphasize how many pounds she has lost. Back in September 2017, she was 220 pounds; in June this year, Riley had shed 52 pounds as she was at 168.
NEGATIVE COMMENTS FROM HER FOLLOWERS
"Y'all just don't understand how hard it is to grow up in front of the public eye & in front of social media trolls who make negative comments about kids weight. Luckily Riley has tough skin & doesn't let it bother her but as her mom it used to piss me off when trolls would make negative comments about her size [sic]," wrote Kandi in the caption.
She continued, "Riley is still working out 5 days a week. I'm so proud of her dedication. Now she doesn't need help to stick to it because she's got that self discipline that I don't even have... Riley wants to help other young people get fit & help them thru the challenges she faced. Stay tuned to what my young boss has coming next! [sic]."
KANDI GETTING BACKLASH
In October this year, Kandi received a lot of backlash after Swift, an Atlanta-based model, revealed that the reality star was trying to pay him only $150 to participate in her "Welcome to the Dungeon" party.
He pointed out that models needed to eat, too, and that they not only should worry about the numbers on social media but the ones in their bank accounts.
Please fill in your e-mail so we can share with you our top stories!