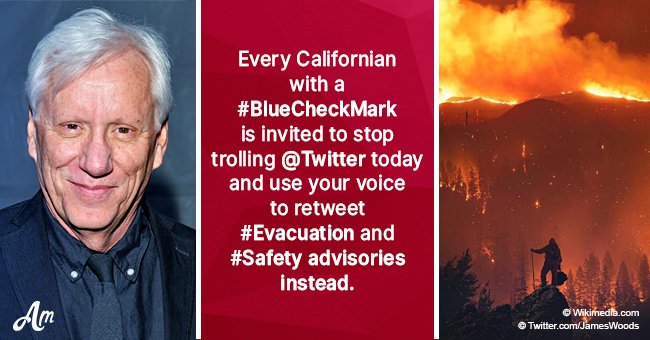 James Woods calls everyone to stop trolling and start helping victims of California inferno
Actor James Woods uses his influence and reach victims to spread advisory posts through Twitter.
As the California wildfires rage out of control, more and more families are affected by the widening circle of destruction that has already killed 31 people.
Families are forced to abandon their homes and flee the blaze. Actor James Woods has appealed to Twitter users to stop "trolling" and to use their reach responsibly, reposting useful advice to people threatened by the wildfires.
He has been posting numerous notes of practical advice to help people menaced by the fire on his Twitter/@RealJamesWoods.
"STOP TROLLING @TWITTER TODAY AND USE YOUR VOICE TO RETWEET #EVACUATION AND #SAFETY ADVISORIES INSTEAD"
Woods, who is a conservative in an overwhelmingly liberal Hollywood, has a following that totals 1.84 million people for his mostly political Tweets.
As the fires progressed, the actor started using his Twitter page to pass on information that would help people affected by the spreading conflagration. Woods' Twitter feed has become a go-to for fire survival guides for California residents.
ADVICE FROM KEEPING PETS SAFE TO EVACUATION LISTS
People caught up in the horror of watching approaching fires that threaten to engulf their homes have found Woods' advice sensible, and practical; a godsend at a time when rational thinking is drowned by fear and anguish. Woods' tweets offer advice on everything and anything, from keeping pets safe to what essentials to pack for an emergency evacuation.
#GOODSAMARITAN TO HELP DISPLACED PEOPLE
Woods' #GoodSamaritan tags people willing to offer shelter, food or clothing to people displaced by the fires and put them in contact with potential beneficiaries. Woods is the first of Hollywood's celebrities to come out in support of the victims of the fires that are decimating California.
"PLEASE THINK ABOUT FOSTERING #PETS WHILE EVACUEES ARE DEALING WITH THE CRISIS"
Woods has also appealed to Californians to foster pets separated by their owners by the disaster. He explained that the Los Angeles animal shelters are overflowing, and there are little recourses for lost pets.
WOODS REMINDS PEOPLE THAT WILDLIFE NEEDS HELP
As the fire blazes through the California woods and brush, Woods reminds his readers that countless wild animals are trapped by the inferno, He asked followers to leave water outside for wildlife that could be "parched by the fires."
TIPS FOR SAFE EVACUATION
Woods recommended that families evacuating their homes should leave large visible signs outside their houses to indicate to first responders that the premises are empty and that they are safe; thereby saving firefighters time and effort.
People who have lost touch with their families and friends during the evacuation have taken to posting messages on Woods' feed., and the actor has helped many reunite with their loved ones. The actor has been tireless in his effort to be helpful to his community and quipped:
"This is so much more rewarding than arguing politics"
Woods who was recently locked out of his Twitter account over an inappropriate tweet has set his political views aside and urged followers to help liberal activist Alyssa Milano find a safe haven for her horses.
HOLLYWOOD STARS LEFT HOMELESS
The fire devastated the Malibu area and razed to the ground the homes of the famous and the anonymous alike. 370 homes are reported to have been destroyed and two people have lost their lives in the blaze.
Singer Miley Cyrus, actor Gerard Butler, and music legend Neil Young are among the celebrities whose Malibu homes were incinerated by the Woolsey fire.
Among the celebrities who were forced to evacuate are Lady Gaga, Kim Kardashian West, Rainn Wilson, and Alyssa Milano.
Cyrus has issued a statement asking people to come forward and donate food and goods to California's Wildfire Relief Fund and the Red Cross.
Butler shared a photo on Instagram of the smoking remnants of his Malibu home and thanked the Los Angeles Fire Department for their service.
"Returned to my house in Malibu after evacuating. Heartbreaking time across California. Inspired as ever by the courage, spirit and sacrifice of firefighters."
Butler counts himself lucky, as his house was only partially destroyed, and appeals to the public for help for the thousands of people who have lost everything and "will have to rebuild from scratch."
Please fill in your e-mail so we can share with you our top stories!