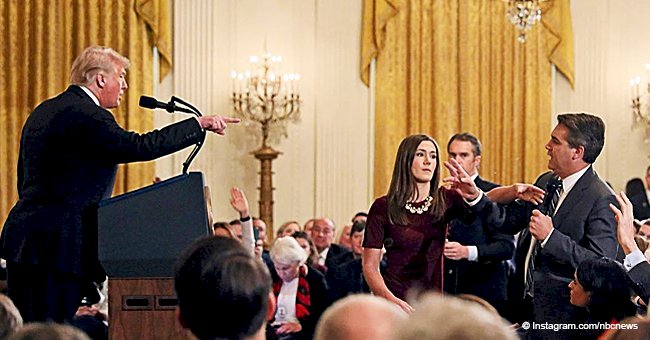 CNN sues President Donald Trump and the White House for banning Jim Acosta
The major news network is fighting back against Jim Acosta's ban from the White House.
The chief White House correspondent got into a testy exchange with Trump during a press conference last Wednesday.
Hours later, White House officials announced and enforced a suspension of Acosta's Secret Service "hard pass." This press pass allowed him to conduct interviews in the White House.
Now, CNN is filing a suit that claims a violation of both the network and Acosta's First and Fifth Amendment rights. They filed it in the U.S. District Court in Washington, D.C. yesterday.
Follow us on Twitter for more @amomama.
According to CNN Edition, White House press secretary Sarah Sanders said the suit is "just more grandstanding from CNN."
She, as well as Trump himself, chief of staff John Kelly, deputy chief of staff for communications Bill Shine, Secret Service director Randolph Alles, and a Secret Service officer, are the defendants in the lawsuit.
CNN and Acosta are the plaintiffs. It was CNN that dispatched the formal letter yesterday requesting that Acosta is reinstated. They also warned the White House of a lawsuit.
The network released a statement outlining their actions:
"CNN filed a lawsuit against the Trump Administration this morning in DC District Court. It demands the return of the White House credentials of CNN's Chief White House correspondent, Jim Acosta."
The statement continued:
"The wrongful revocation of these credentials violates CNN and Acosta's First Amendment rights of freedom of the press and their Fifth Amendment rights to due process. We have asked this court for an immediate restraining order requiring the pass be returned to Jim, and will seek permanent relief as part of this process."
Trump regularly shows disdain for Acosta and other reporters who work for news networks he deems as "fake news." Last week, he opined about Acosta:
"I think Jim Acosta's a very unprofessional man. Look, I don't think he's a smart person, but he's got a loud voice."
In addition to his "loud voice," Acosta was accused of acting "inappropriately." Press secretary Sanders said:
"[Acosta] physically refused to surrender the White House microphone." She added: "this was not the first time this reporter has inappropriately refused to yield to other reporters."
The White House further claimed that Acosta put his hands on an aide who tried to take the microphone from him. But Acosta's colleagues and many others said this was not true.
CNN warned other reporters in their statement. They said: "While the suit is specific to CNN and Acosta, this could have happened to anyone."
They added:
"If left unchallenged, the actions of the White House could create a dangerous chilling effect for any journalist who covers our elected officials."
The network was backed up by the White House Correspondents' Association. The association president, Olivier Knox tweeted: "The President of the United States should not be in the business of arbitrarily picking the men and women who cover him."
They also called the reaction "disproportionate to the events." This would be the first time that a president revoked a reporter's pass because they appeared to dislike the questions asked.
Legal experts, including Floyd Abrams, expressed that CNN has a solid case. Abrams is a well-respected First Amendment lawyer. He called the lawsuit "really strong."
"I think [CNN] should sue, and if it's not about Acosta, this is going to happen again...So whether it's CNN suing or the next company suing, someone's going to have to bring a lawsuit, and whoever does is going to win."
Source: YouTube/ KUSI News
He and other lawyers paralleled the situation to the Robert Sherrill case of 1977. Sherrill was denied credentials after a fistfight with a campaign aide. He sued for reinstatement and won his case.
It appears that CNN and Acosta have a good chance of winning their case as well. They are pushing for a preliminary injunction in hopes of quickening Acosta's return to the White House.
Please fill in your e-mail so we can share with you our top stories!