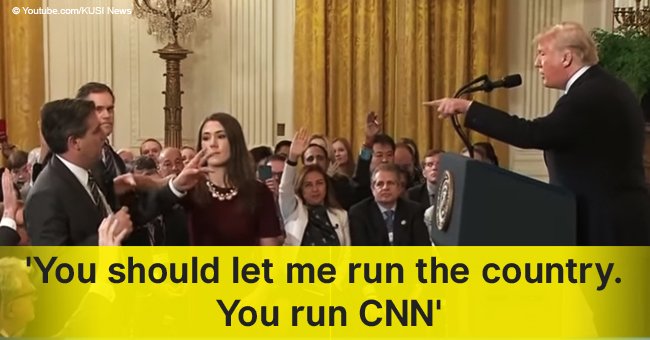 CNN reporter called 'rude' by Trump loses access to White House after scandalous press-conference
During a press conference on Wednesday, CNN reporter, Jim Acosta got into a shouting match with President Donald Trump. The disagreement occurred when Acosta started asking Trump a lengthy question about the migrant caravan.
The reported has since had his media access revoked to the White House. Trump claims that Acosta's access was suspended because of his behavior.
On Wednesday, Jim Acosta, CNN's chief White House correspondent, was seen questioning President Donald Trump at the White House among other journalists. That was before the White House suspended his press access.
On the same night, Acosta revealed the suspension by sharing that he was denied access when he tried to enter the White House. A Secret Service agent stopped him and asked for his press card.
For more on this story go to our Twitter account @amomama_usa. Acosta got into a shouting match with Trump when he asked him about the migrant caravan.
The reporter argued that the president should not have called the caravan an "invasion." After being badgered, Trump shouted at Acosta, "That's enough!" and told him "You should let me run the country. You run CNN."
However, the journalist wasn't done with his questions and he tried to move on to another one related to the Russia investigation. Recordings showed him brushing away the arm of a young female intern who was trying to take the microphone back.
In response, the president said:
"CNN should be ashamed of itself having you work for them. You are a rude terrible person. You shouldn't be working for CNN. When you report fake news, which CNN does a lot, you are the enemy of the people."
Later, Press Secretary Sarah Sanders issued a statement where she clarified that Acosta's "hard pass" had been suspended as a result of his attempt to keep control of a microphone. She alleged that the reporter put "his hands on a young woman just trying to do her job as a White House intern" during the session.
Via Twitter, CNN challenged Sanders by arguing that Acosta's suspension "was done in retaliation for his challenging questions at today's press conference." They added that the "Press Secretary Sarah Sanders lied."
They also shared that they fully supported their journalist. On the same night, Acosta spoke to CNN's Anderson Cooper.
"I never thought in this country that I wouldn't be able to go cover the president of the United States simply because I was trying to ask a question."
In a statement, the White House Correspondents' Association said it "strongly objects to the Trump Administration's decision to use U.S. Secret Service security credentials as a tool to punish a reporter with whom it has a difficult relationship."
They added, "We urge the White House to immediately reverse this weak and misguided action." Trump was a different person on Monday during a rally in Missouri.
While pointing at the woman, the president said:
"Is there a doctor in the house, please? Doctor? Please. Thank you."
Trump waited patiently as the woman got treated with the crowd singing "Amazing Grace" as she was carried out for further assistance.
Please fill in your e-mail so we can share with you our top stories!