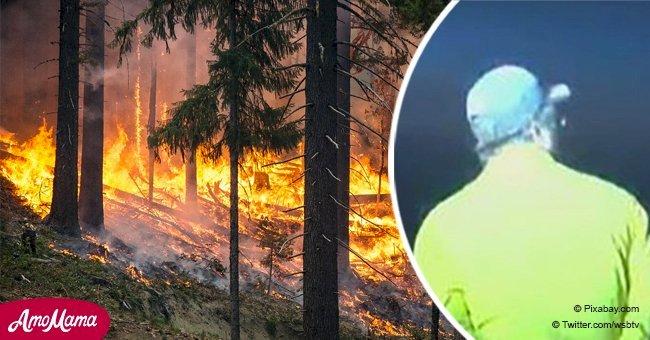 Two men dressed like Forest Service workers arrested for suspected looting in the wildfire area
The wildfire disaster appears to be plaguing California in more ways than one. Homeowners reported over 53 cases of looting have so far.
The police arrested two men who appeared to be impersonating U.S. Forest Service workers. They were attempting to get into evacuated homes of the decimated Paradise town.
The men wore bright yellow coats that are similar to the uniforms worn by real forest service personnel. Their arrest took place in the fire zone near the Sierra Nevada mountains according to CBS San Franciso.

Source: Facebook/ KPRC Radio
Police did not reveal what the men tried to steal when officers picked them up from Paradise town on Saturday night. There, the Camp Fire rages on. It is reportedly the largest of three fires causing devastation in South California.
The destructive fires have led to 31 deaths so far, with over 200 persons still missing. The looting situation is making matters that much worse for residents.

Source: Facebook/ KPRC Radio
Butte County's law enforcement officials confirmed that the area is also dealing with the crime wave sparked by the Camp Fire. Sheriff Kory Honea asserted that looters would be prosecuted to the law's fullest extent.
In a press conference, he said:
"If we discover looting and evidence of looting, we will investigate. And even if we don't catch you there, we will investigate to determine if we can identify you and make an arrest."

Source: Facebook/ KPRC Radio
He also reported that 66 calls to his department were about "suspicious incidents."
In addition to the two men, police arrested four other people who threatened a man at gunpoint in his driveway. Three held outstanding warrants for their arrest. One of them had methamphetamine on him.
Another incident involved the loss of a fireman's uniform from his car as the fireman rested. Police found the perpetrator but it's unclear if they arrested him.
Back in October, water entered several homes of the Polo Farms neighborhood in South Carolina. Looters also preyed on victims of that tragedy.
Some residents even caught looters on surveillance cameras installed outside their homes. A resident of Irees Way caught two men stealing items from her front yard.
"They went up to my house, took down my tarp, took my TVs, lawnmower, our children's bikes," Wendy Lewis said.
Like the flooding just two months ago, many in California are now losing a lot of their belongings. Some have lost everything in the fire.
Celebrities including Martin Sheen, Kim Kardashian, and Lady Gaga shared their experiences online.
Camille Grammer's house was reportedly a total loss. Gerard Butler took a photo of himself standing in front of his half-destroyed California home. Miley Cyrus said her house "no longer stands."
We pray the communities can stand strong against the fires and looting until the disaster passes.
Please fill in your e-mail so we can share with you our top stories!