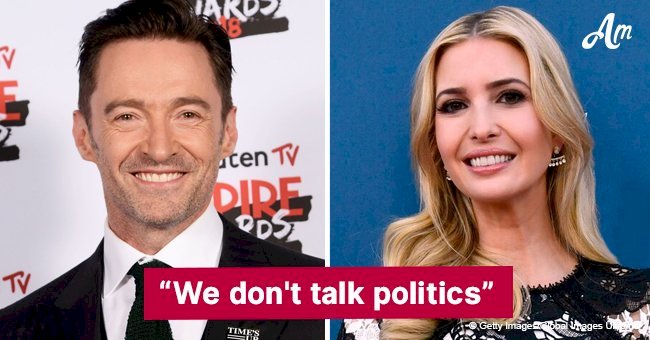 Hugh Jackman opens up about his friendship with first daughter Ivanka Trump
Hugh Jackman celebrated his 50th birthday last month, but in light of comments that followed regarding his guests, Hugh decided to speak up and set the records straight.
The Oscar nominee caused a stir when First Daughter Ivanka Trump and Jared Kushner formed part of the attendees.
They met through mutual friends over 15 years ago and have stayed friends since, and Hugh said:
"They're great friends. They're unbelievably loyal. We're great friends and I want to say to people...'So, if you're friends of 15 years' dad became president, do you dump them as a friend? Really?"
Read more on our Twitter account @amomama_usa.
Loyalty is important to Hugh, and he goes on to comment that even though they are friends, it doesn't mean one is always in agreement with friends and added:
"Even if I disagree with some of the stuff people do—all of us have friends we disagree with the stuff they do."
Hugh joined Stephen Colbert on 'The Late Show' during which they paid tribute to the late Stan Lee, the 95-year-old Marvel Comics co-founder who passed away on Monday.
Colbert started the show with a tribute to Stand the Man, as he used to call Stan Lee, he pointed to an authentic Captain America shield gifted to him many years ago, where it was in its place of honor on 'The Late Show' set and commented:
"Thanks for all the stories, Stan, and, I know you're hearing this a lot today, but, 'Excelsior.'"
He was soon joined by Hugh Jackman, who was there to speak about his new movie, 'The Front Runner' however Hugh began by reminiscing with Colbert about the legend that is Stan Lee, noting that Stan was at least partially responsible for launching Hugh's career.
Hugh recounts a specific memory while he was preparing for his role as Wolverine and he spent studying the wrong animal for three weeks. Australia does not have wolverines and ignorantly thought it to be a fictional creature, so he studied wolves instead. Stan Lee's thoughts on that must have been funny.
Earlier this year Hugh responded to recurring rumors that he is gay. He had been married to Deborra-Lee Furness for 17 years and found the persistent false rumors to be hurtful to his wife.
Admitting that he found it flattering in the beginning, it soon turned into frustration as the gossip about his sexuality refused to stop. Wife Furness also stated that she found gossiping about other people's private lives offensive.
This is not the first time Hugh had spoken out about this, during previous interviews he also commented on the impact the false rumors has on his wife.
Please fill in your e-mail so we can share with you our top stories!