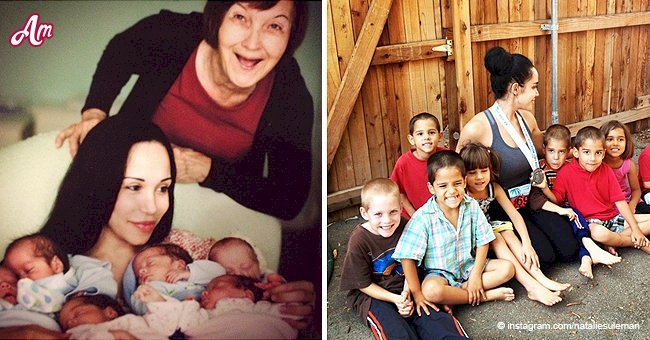 Remember the woman who gave birth to octuplets? Her children are all grown up and look so happy
Nadya Suleman took the world by storm in January 2009 by giving birth to eight children in a single pregnancy. Here is what she is doing today.
Famously dubbed as the "Octomom," Suleman gave birth to octuplets. What shocked the world, even more, was the fact that she was already a mother to six other children, Shared reported. Suleman's previous six children were born after five rounds of IVF.
After getting the attention of people with her surprising pregnancy case, Suleman made several appearances on famous shows including The Oprah Winfrey Show and Dr. Phil.
She also was a part of Fox documentary based on her own life titled "Octomom: The Incredible Unseen Footage."
Follow us on Twitter to learn more.
Eventually, she made an effort to step away from the limelight and put her entire focus on raising her 14 children. However, she could stay away from the spotlight for too long as she soon started to exploit her fame by starring in several adult movies.
Suleman later realized that she was not setting a good example for her children. She was scared that she might push them down the "same potentially destructive path" that she walked.
"There was definitely a catalyst — my girls, particularly my oldest daughter Amerah. She was about 10, and she started integrating my traits and behaviors," Shared quoted her as saying. She then concluded that she would rather be homeless in her van with all her 14 kids.
Suleman further stressed that the fame and attention she had "nearly destroyed" her family. She admitted that she was forced into doing things she didn't want to because she was scared of not being able to support her children and live the life she "deserved."
Later, she started her career as a rehabilitation counselor and gave all her spare time to her children, which gave her life a much-required change and a "sense of peace" and "eternal joy."
About three years ago, she moved to her hometown of Laguna, California to start a new life. She has taken a new name, "Natalie," as she is trying to distance herself from her earlier "Octomom" image.
"As 'Octomom,' I was the walking dead. When I woke up and I went back to my roots, my helping profession, and my kids, we were struggling financially but it didn't matter. I never felt so free and so happy in my life," Shared quoted Suleman as talking about her new life.
Suleman, who manages to feed her children using food stamps, was recently found guilty of welfare fraud and was ordered to perform community service.
She has, however, blamed her old managers for the charges because she had given them her cards and checkbook to manage. She pleaded that she was busy managing her children instead of her money.
Meanwhile, Direct Expose reported that having children and starting a family was always of utmost importance to Suleman.
She always dreamed of having a big family because she always craved for that emotional attachment growing up as the only child of an Iraqi father and Lithuanian mother.
In another similar news, a couple became parents to 11 children with a single pregnancy after giving birth to sextuplets while trying for a fourth child.
Please fill in your e-mail so we can share with you our top stories!