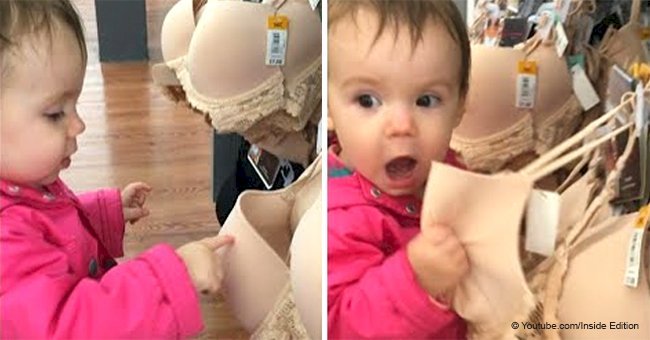 Adorable baby thinks bra hanging in Walmart is a pair of breasts & tries to nurse in viral video

One of the cutest things about babies is their innocence, and this toddler definitely won the internet with a video of her honest mistake. Watch the hilarious video below.
14-month-old Emmy from Ohio was on a Walmart trip with her mom, Erika Baudendistel when she decided to help herself in the undergarments section.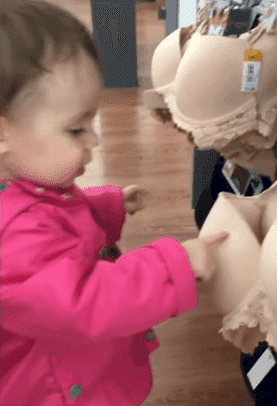 YouTube/Inside Edition
Erika had stopped in the aisle, but it was Emmy who appeared to have serious interest in the goods on display.
The toddler approached a set of bras and promptly helped herself to what she apparently thought was a pair of breasts. She squeezed the nude-colored bras repeatedly, trying to breastfeed.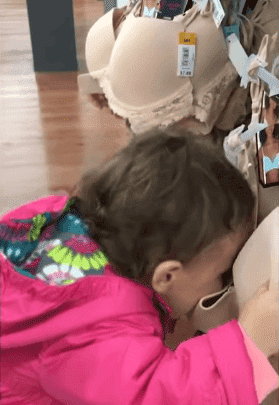 YouTube/Inside Edition
Erika told Inside Edition:
"She just happened to walk up and start touching 'em, poking 'em, and I thought she was gonna yank it right off like she normally does and then she went for it. I was like, 'That, that's not me! That's not mommy! But okay!'"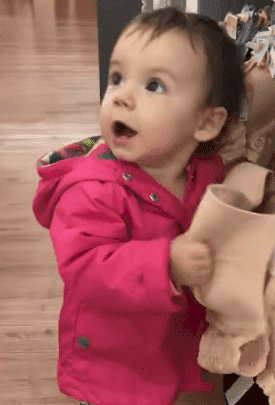 YouTube/Inside Edition
The amused mom can be heard in the clip telling Emma: "What are you doing? That's not me. There's no food in there." But the cute tot was too excited to pay her Erika any attention.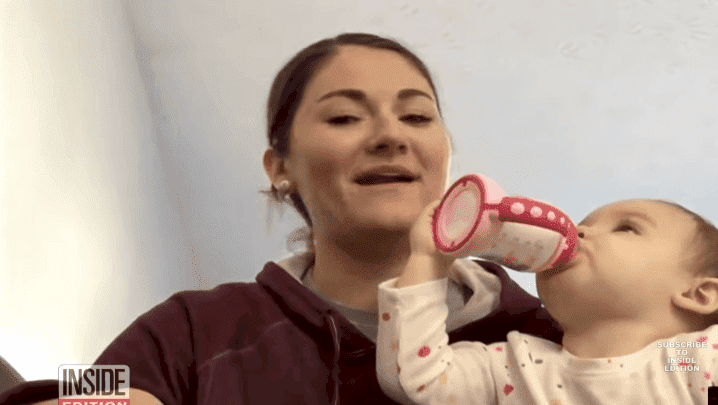 YouTube/Inside Edition
Erika agreed that Emmy thought the bras were a pair of real breasts. As seen in the video, each time the mom asked her daughter: "where's the boobies?" Emmy touched the underwear.
"I think she thought it was a person or it was me, and I think she thought she could nurse," Erika added.
BABIES DO IT BETTER
Like Emmy, another baby girl went viral after internet users found footage of her lip-syncing adorably to "H.O.L.Y," the popular song by the Christian band, Florida Georgia Line.
The little fan was strapped in her car seat, but as soon as the track came on over the stereo, she became animated and sang along passionately.
It's not only her impressive lip-sync but also the gestures with which she accompanied the song, that made the video go viral.
It eventually caught the attention of Brian Kelley and Tyler Hubbard, members of the band, and they shared it on their official Facebook page.
The clip was posted on their Facebook page in 2016 and now has over 22 million views.
Please fill in your e-mail so we can share with you our top stories!