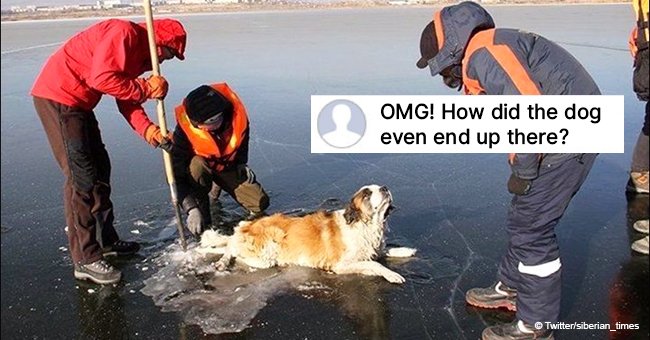 Rescuers criticized after freeing a dog mysteriously stuck in a frozen lake
A dog was freezing to death after falling through thin ice in the lake; he was rescued but faces an uncertain future.
Firefighters in a hovercraft found a quite mysterious scene while patrolling a frozen lake in Russia: a dog was frozen in the ice by the tail and hind legs. BNQT told the news.
The rescue squad of Zabaikalsk firefighters had been looking for people stranded in Lake Kenon, in the suburbs of the city of Chita, when they saw the trapped dog and saved it from certain death, according to The Siberian Times report.
"Rescuers saw a dog lying in one place for a long time," a spokesman told The Siberian Times. "When they approached, they saw that both of his hind legs and his tail were frozen in the ice. Read more on our Twitter account @amomama_usa.
"There was no way he could go out on his own." They rescued the dog trying to remove the ice around him. Then they took him to the shore, where they heated and fed the canine.
The dog is believed to be a guard dog of Moscow, a breed of dogs in Russia that crosses the races of St. Bernard, Caucasian Shepherd and Russian Spotted Dog.
The dog may have been abandoned, The Siberian Times reported, adding that "no owner came to pick up the animal, so the dog was allowed to continue on its way."
As one commentator said on the Siberian Times Facebook page, "Well done, but could not someone just adopt it?" Well, good question, especially considering that nighttime temperatures in the region vary between 14 and 28 degrees Fahrenheit.
Robert Rochte said: "No one came to pick up the animal, so the dog was allowed to continue on its way The dog seemed to have been abandoned by its owner, so the rescuers also left it? That's what this means?"
In another case, also with a dog in the middle of an emergency, a woman risks her own life to rescue him, since the animal had thrown itself into a frozen lake.
This happened in the waters of the frozen Lake Trout, east of Vancouver, and could save the life of this unfortunate, but a lucky animal. The woman saw him in danger and did not hesitate a second to take action.
Please fill in your e-mail so we can share with you our top stories!