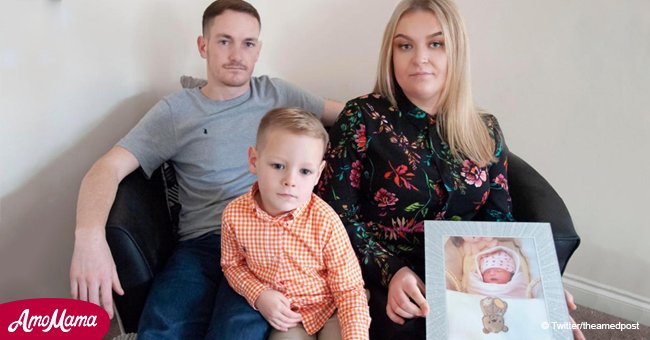 Parents outraged their newborn was removed from life support without their consent
Six years ago, couple Sian Hill and James Towers went to Darlington Memorial Hospital to give birth to their first child.
Hill had finally been induced at 41 weeks and five days. When their child was born she ran into complications and died.
The hospital failed to inform the couple that they'd turned off life support without their consent. Sian Hill, 26, and James Towers, 29, finally won a five-figure payout after fighting a legal battle with Darlington Memorial Hospital for five years.
The couple accused the hospital of turning off the life support of their baby girl, Ivy, who died from multi-organ failure.
In 2012, on a number of occasions Hill had raised concerns with the hospital when she couldn't feel her baby move for long periods. At the time she'd gone beyond the 37-weeks pregnant mark.
For more on this story go to our Twitter account @amomama_usa. When Ivy was finally born, she had to be rushed to resuscitation because of a traumatic birth.
Hill explained how they found out their baby had died:
"When they brought Ivy into the room she had died and was in a wicker basket. They said she had died when they were bringing her to us, no mention of switching anything off."
The hospital failed to inform the couple that they'd switched off the baby's life support.
A few months later, the pair was reading through pathologist reports and they discovered that the staff had taken the decision to end life support against their wishes.
The two decided to consult medical negligence specialists lawyers Hudgell Solicitors. They investigated the case and alleged that the hospital had also been at fault for Ivy's death by failing to induce Hill at an earlier stage of her pregnancy.
For their part, the County Durham and Darlington NHS Foundation Trust allegedly denied any responsibility for the baby's death for five years.
They only offered a bereavement settlement and damages after the case was listed for trial at court next February.
Hill had this to say about the settlement:
"We have been given compensation but that doesn't bring back our daughter, and they still haven't apologised."
Their daughter was born weighing 10.8 pounds and suffered an infection and she needed resuscitation. Three hours later, the little girl was dead when her parents saw her.
Hill has since had a 4-year-old son, Freddie.
King's College Hospital doctors argued that it was not in baby Isaiah Haastrup's interest to keep him alive.
The baby had no audible heartbeat, respiration, activity or muscle tone when he was born. His mother, Takesha Thomas gave birth to him through an emergency cesarean section on February 18, 2017, at the hospital.
She'd had a rupture in her uterus at the time. The boy's father, Lanre Haastrup, had objected to doctors' advice to turn off Isaiah's life support but the hospital went ahead with the action.
Please fill in your e-mail so we can share with you our top stories!