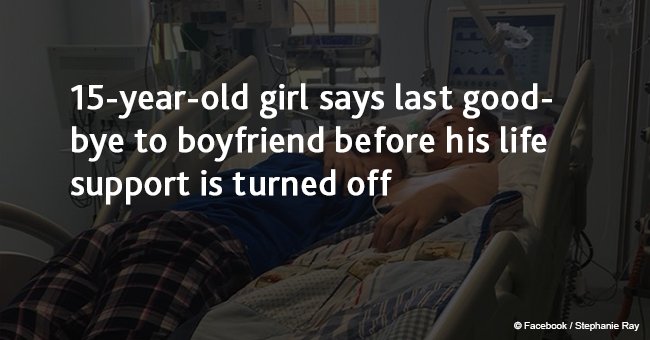 15-year-old girl says last goodbye to boyfriend before his life support is turned off

First love ends in tragic heartbreak for teenage sweethearts divided by untimely death.
Stephanie Ray, 15, and Blake Ward, 16 were childhood sweethearts, and in the flush of first love when tragedy struck, reported Daily Star on August 7, 2018.
What started out as a typical summer day at the beach ended in horror, when Ward was swept out to sea by a riptide at Tywyn beach in Wales.
By the time the RNLI - Royal National Lifeboat Institution - pulled the boy out of the water, it was too late. Ward was unconscious and had suffered irreversible brain damage.
"Even though he hadn't been part of our family for long his loss has left us beyond devastated and heartbroken."
Becky Ray, Daily Star on August 7, 2018.
RUSHED TO HOSPITAL TOO LATE
Ward was rushed to Alder Hey Children's Hospital in Liverpool, but the brain damage he had sustained by drowning was permanent, doctors said. Throughout his ordeal, Ray was by his side, holding his hand, praying for his recovery.
Faced with the doctor's prognosis of their son's future, Ward's parents made the bitter decision to switch off his life-support.
"FLY HIGH MY BABY BOY AND I'M GONNA MAKE YOU PROUD LOVE YOU AND I ALWAYS WILL"
A shattered Ray was present at the hospital and had her final moment of farewell with her sweetheart. A poignant photo taken by staff shows the young girl lying next to Blake on his hospital bed, holding him tenderly.
A HEARTBREAKING GOODBYE
Ray would later post her last tribute to Ward on Facebook, in which she told her friends that saying goodbye to him had made it the hardest day of her life, and one she would never forget.
A TRIBUTE FROM THE RESCUERS
The Holyhead Coastguard helicopter carried out a flypast over Tywyn beach in memory of the young boy, as mourners stood in silence to remember the teen.
Ward was one of three teenagers who got into trouble when the vicious currents dragged them out to sea.
Two helicopters, three lifeboats, two coastguard teams, paramedics and police were called to the seafront in an intensive rescue operation to save the boys. The three were pulled out of the water and taken to the hospital. Of the three, Ward was the only fatality.
LOVE ON HER DEATH BED
Nina Marino would have understood the anguish Stephanie Ray felt cradling her dying sweetheart in his hospital bed.
Marino, 19, married her childhood best friend Joey Williams, 21, in a hospital room. It was to be a short marriage. Marino succumbed to cancer three days after her wedding.
The two had met as children at a summer camp for children with severe medical conditions.
While Marino suffered from VACTERL syndrome - a series of associated physical problems - and Williams had a congenital heart defect and suffered from chronic pain.
They discovered they were neighbors, and have been inseparable ever since, becoming each other's best friend.
In 2017, something changed, on a trip to Disneyland they confessed their love for each other and started dating.
"She was diagnosed with cancer a month before we started dating. It was called an undifferentiated sarcoma, which means it's a sarcoma, but we don't know what kind."
Joey Williams
But fate struck a cruel blow. Marino was diagnosed with cancer and underwent chemotherapy treatments and a surgery to remove a brain tumor.
In August 2018, Marino proposed to Williams on her hospital bed. She was on a ventilator and couldn't speak, so she wrote it out: "Will you marry me?" Williams accepted, but a month later doctors found additional tumors in her lungs.
Faced with the inevitable, the couple decided to marry before it was too late. With the help friends, family, and the hospital staff they made their dream wedding a reality.
Marino and William exchanged vows from her hospital bed in the ICU, with the groom in a tux, and the bride put on a beautiful wedding dress. It was a beautiful ceremony, but their love and joy were short lived. Three days later, like Stephanie Ray, Williams was faced with living his life without his first love and his best friend.
Please fill in your e-mail so we can share with you our top stories!