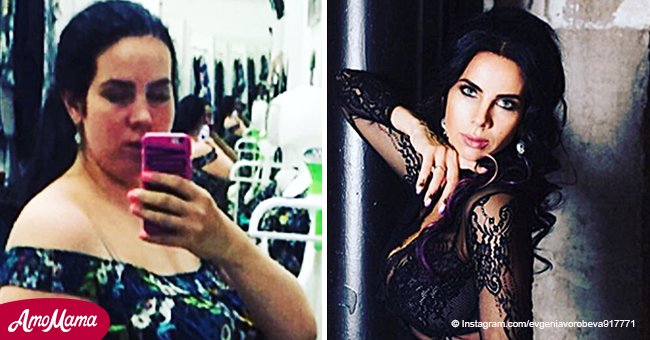 Woman who weighed 20 stone shed half of her body weight to take revenge on cheating husband
A woman lost 10 stone in 20 months and became a famous beauty after her husband cheated on her.
Evgenia Vorobiyova was a happily married mother of two when her world came crashing down.
The 31-year-old Russian whose weight had soared to 20 stone after her second pregnancy discovered that her husband was having an affair.
This betrayal forced her to reevaluate her life and lose 10 stone, and she shared her astonishing transformation on Instagram/ EvgeniaVorobiyova.
'I had never been skinny but I was not fat either. During my first pregnancy, I naturally put on some weight.'
Evgenia Vorobiyova, Instagram/ EvgeniaVorobiyova.
A HEARTBREAKING BETRAYAL
Initially, Evgenia's husband told her that he enjoyed her curves, but he started being unpleasant to her and distant, spending more and more time away from home.
A suspicious Evgenia checked his cell phone and discovered that he was having an affair with an old girlfriend. At first, her husband denied the affair and claimed he was asking the woman for help in dealing with Evgenia's postpartum depression.
HIS INFIDELITY TURNED HER LIFE AROUND
Hurt and angered by his infidelity, Evgenia decided that the marriage was over - and she also decided she was going to take back control of her life and her body. The green-eyed brunette embarked on a fitness and health routine that would transform her in just 20 months.
AN INCREDIBLE TRANSFORMATION
Evgenia started by changing her eating habits. She dropped the rich meaty dishes she loved and eliminated fried food from her diet. She also started consuming a slimming drink that contained fats, protein, and carbohydrates plus minerals and vitamins that allowed her to control her calorie intake.
GIVING HER CHEATING SPOUSE HIS WALKING-PAPERS
Evgenia joined a gym and added grueling work-outs to her regime. She lost 10 stone in under 20 months, was healthier and more energetic, and was soon displaying an enviable movie-star silhouette.
Soon after she reached her ideal weight and was looking and feeling incredible, Evgenia kicked her cheating spouse out of her life.
The green-eyed stunner shared her transformation on social media and became a celebrity in her native Russia. Evgenia even participated in a Russian reality TV show "Let's Get Married" in which she looked for a new love.
Evgenia revealed that the secret of her transformation was deciding to put herself first, keeping healthy and being happy and confident - and ultimately an excellent role model for her children.
Read more on Twitter Amomama USA.
ANOTHER STORY OF EXTREME WEIGHT LOSS
Like Evgenia Vorobiyova, Georgie Callé weighed 20 stone. The British 25-year-old suffered from Obsessive Compulsive Disorder and would consume approximately 4,000 calories a day.
In a short time, Georgie ballooned to an unhealthy 20 st 11 lb. She would consume high calorie take away food compulsively and eat a family-sized bar of chocolate a day.
Georgie was driven by her condition to avoid human contact, and became a veritable hermit, venturing out to only to indulge in eating binges:
"I didn't understand at the time that I had OCD. I just felt like a horrible person. I'd cross the street to avoid being around people. It affected my concentration at work, my social life – it permeated everything."
Georgie sought help and started OCD medication and therapy which helped her to change her attitude towards food. She started running and losing weight, and dropped an incredible 10 stone.
"My anxiety and OCD are much easier to deal with. I haven't felt unwell since I started living a healthier lifestyle."
Georgie now lives with her boyfriend Josh, also 25. She is slim, healthy and happy and is in training for next year's London marathon.
Please fill in your e-mail so we can share with you our top stories!