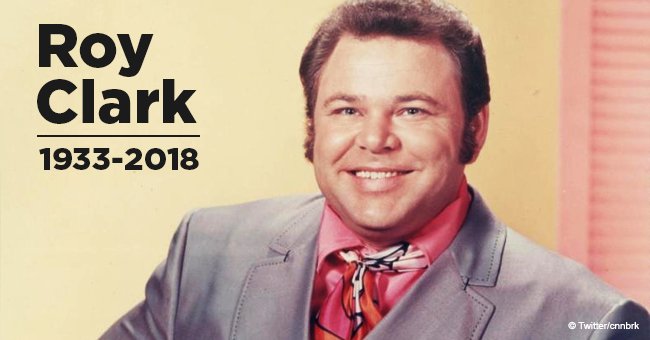 Country legend, Roy Clark died at 85
Country star and legendary host of Hee-Haw dies at 85.
The country music world is in mourning over the passing of one of its most influential and enduring legends: Roy Clark.
Clark died on November 15, 2018, at the age of 85 due to complications from pneumonia at his home in Tulsa, Oklahoma, reported The New York Times.
"I was subjected to different kinds of music before I ever played. Dad said, 'Never turn your ear off to music until your heart hears it — because then you might hear something you like.'"
COUNTRY MUSIC MOURNS ROY CLARK, SINGER AND MULTI-INSTRUMENTALIST
Clark was highly regarded and renowned as a guitarist and banjo player, classic guitar, fiddle, harmonica, mandolin. He was also a talented vocalist and recorded several pop-music and country hits.
His greatest impact was in popularizing country music through his television program "Hee Haw" which provided one of the earliest showcases for country music talent.
THE BOY FROM VIRGINIA WHO BECAME A GRAND OLE OPRY STAR
Clark's father played guitar, fiddle, and banjo; his mother, Lillian, played the piano; his brother Dick and sister Jean both played mandolin and guitar. Clark soon mastered all these instruments, but none imagined the sporty country boy would one day play on the stage of the Grand Ole Opry.
FROM SQUARE-DANCES TO PLAYING WITH HANK WILLIAMS
Clark went from playing in square-dances with his father to skipping school at 15 to play in Washington's honky-tonk bars. Soon he was playing with Grandpa Jones and sharing a stage with such country icons as Hank Williams.
TAKING COUNTRY MUSIC MAINSTREAM ON TV
Country music owes a great deal of its current popularity to Roy Clark. In 1969, Clark and fellow country artist Buck Owens became the hosts of "Hee Haw," a musical variety and comedy show that offered country musicians a chance to reach a wider audience. The show ran from 1969 to 1997, and it was here that Clark blossomed as a comedian.
Clark had 23 Top 40 country hits, including "The Tips Of My Fingers," "I Never Picked Cotton," "Thank God And Greyhound You're Gone," "Somewhere Between Love And Tomorrow" and "If I Had It To Do All Over Again."
In 1994 Clark published his autobiography, "My Life in Spite of Myself". His influence on such country musicians as Emmylou Harris, Dwight Yoakam, Brad Paisley, and Keith Urban is openly acknowledged.
Right until the end of his life, Clark continued to tour extensively.
"Soon as you hit the edge of the stage and see people smiling and know they're there to hear you, it's time to have fun."
Clark had been honored with a star on the Hollywood Walk of Fame and the Country Music Hall of Fame; he also won a Grammy, and several ACM and CMA awards.
Roy Clark is survived by his wife of 61 years Barbara, his sons Roy Clark II and wife Karen, Dr. Michael Meyer and wife Robin, Terry Lee Meyer, Susan Mosier and Diane Stewart, and his grandchildren: Brittany Meyer, Michael Meyer, Caleb Clark, Josiah Clark and his sister, Susan Coryell.
MUSIC'S SAD GOODBYES IN 2018
The "Beverley Sisters" star Babs Beverley died aged 91. The singer shot to fame with her sisters Teddie and Joy with such hits as "Little Drummer Boy" and "I Saw Mommy Kissing Santa Clause", both have since become Christmas classics.
Guitarist Oli Herbert, one of the founding members of "All That Remains", died in October 2018 at the age of 44, The cause of death was announced as being due to drowning.
October saw the demise of two other music legends: Spanish soprano singer Montserrat Cabelle, 85, and French singer Charles Aznavour, 94.
The Diva of Blues, Aretha Franklin, died of advanced pancreatic cancer in August, and thousands paid their respects at her funeral in Detroit.
A sad year for music, with the passing of so many legends, but also an opportunity to remember and cherish their legacies, and pass them on to a new generation.
Please fill in your e-mail so we can share with you our top stories!