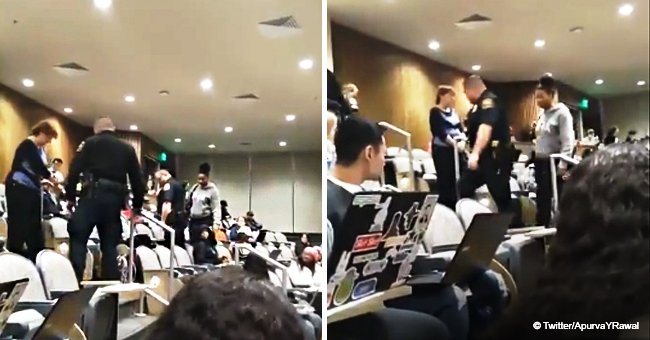 White professor calls police on black college student for putting her feet up in class
A White professor takes things a little too far when she calls the police on her black student who had her feet up in class. The incident was caught on video.
Paige Burgess, an African American student of the University of Texas found herself being escorted by police out of her classroom because she put up her feet during class. Her professor, Anita Moss called the police on her claiming the class was getting to be uncivilized.
CAUGHT ON VIDEO
Apurva Rawal, a student from the class captured the incident on video and uploaded it online. She found it strange that their teacher would get the police involved. She explains in her caption that her classmate "wasn't talking or interrupting lecture."
"A girl had her feet up and the professor called the police after calling our class uncivil," she also writes.
In the clip, Moss is seen talking to the University police before leading them to Burgess who was escorted out of the classroom. The room becomes silent as students digested what was going on.
MAKING SENSE OF THE PROFESSOR
Moss, who previously warned students of their inattentiveness during lectures canceled her class after a student questioned her actions. Apparently, Moss already had a case against Burgess following an incident a few days earlier. They had a confrontation about the incident on the day Burgess was reported to the police.
STUDENT DEFENDS HER CASE
In response to Rawal's post of the incident, Burgess retweeted it and insisted she "never disobeyed the student code of conduct."
"This is me in Anita Moss' 2053 Bio classroom. Upon entering class I was told I needed to leave or would be escorted out by officers, I never disobeyed the student code of conduct. Not once. A police report is being filed atm, this is just the beginning. Thanks for your support!"
RESULTS OF THE INVESTIGATION
Results of the police investigation later revealed that there was no racial bias at play during the incident. However, the professor was found to have exercised poor judgment in handling the situation.
University president Taylor Eighmy chimed in and expressed his commitment to furthering their efforts at promoting inclusivity.
"After hearing from so many students, faculty and staff regarding their feelings of marginalization, disrespect, and fear, I am more convinced than ever that this is a top priority."
Moss was relieved of her duties for the semester and was required to undergo classroom management training. She's expected to return to teaching in the spring of 2019.
ANOTHER NEEDLESS POLICE CALL
It is not unusual to hear stories about white people unnecessarily calling the police on black people. Last month, a black man, Corey Lewis documented a woman stalking him and eventually calling the police on him because he was babysitting two children. The woman was needlessly suspicious just because he was black and the children he was babysitting were white. She followed them with her car until they reached his home where a police officer the woman called arrived. The incident ended after the officer spoke to the children's parents and confirmed that Lewis was indeed their babysitter. One of the children later said in an interview that she wished the woman saw three people in the car instead of three skin colors. It's amazing how a young child could make better sense of the situation.
Please fill in your e-mail so we can share with you our top stories!