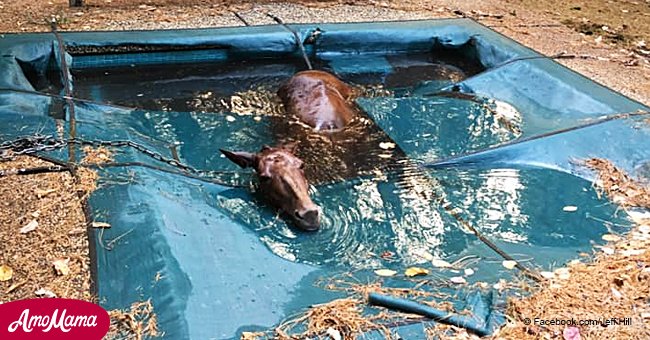 Man saves 'shivering' horse after it fell into a pool amid CA fires
A 29-year-old resident from Butte County was checking up on a friend's father and ended up saving a life.
Jeff Hill told ABC News that his friend's father didn't evacuate and Hill wanted to make that senior resident was okay. He said:
"We expected to find the remains of his dad. The house was still standing, and his dad made it out alive."
Hill and his friend inspected the area around the house when they made a shocking discovery. Read more on our Twitter account, @amomama_usa.
AN ANIMAL IN DISTRESS
Hill saw a mule in the garden, walking up and down, but it was only on closer inspection that he realized there was another mule in the swimming pool.
The animal got caught up in the pool cover and was exhausted from struggling to free herself. Hill said on Facebook that she "had the look of defeat in her eyes."
"There's no telling how long she was there, but she was shivering uncontrollably and ultimately lost her fight."
Hill and his friend saved her by unhooking the pool cover. Once freed from the cover, they gently guided her to the shallow end of the pool and up the steps.
SHE LOVED US FOR A FEW MINUTES
The horse appeared uninjured, and Hill said she shook herself dry and "showed some love" by nuzzling their hands before walking off.
The horse was shivering from the cold, but other than appeared to be fine. He concluded:
"She got out, shook off, loved on us for a few minutes as a thank you and walked off assuring us that she was ok."
Hill had been a resident of Butte County for more than two decades and had to watch in his rearview mirror how his home caught fire as he drove away.
HILL LOST EVERYTHING
The father-of-two, with a third one on the way, said his children were his only concern, and he grabbed "kid-related" items while evacuating.
The devasted man said he nearly cried when he returned to his home on Sunday and found it burned to the ground. It had been his childhood home.
The Californian fires had been raging for most of this week, destroying the homes of A-listers and regular citizens alike.
Miley Cyrus, whose home was reduced to ash as well, said on Twitter that she is grateful to be alive and that her dogs are safe.
The fires have claimed the lives of nearly 60 people thus far, and more than 130 residents are still missing.
IT'S NOT OVER YET
Rescue workers found a third body in Paradise this week and fear it's just one of many. Reducing nearly 300,000 acres of land to ash, this fire is said to be the most destructive to date.
In the wake of the fire, the state is monitoring the need of healthcare facilities to ensure everyone affected by the fires get the help they need.
Rescue workers urged residents to stay indoors, either at unaffected homes or at shelters, if possible, and to wear masks when going outside.
The director of Cal Fire said "critical fire conditions" still existed in many of the neighborhoods, due to dry vegetation that could flare up again.
Despite the setback, he said firefighters are getting the upper hand over the blaze
Please fill in your e-mail so we can share with you our top stories!