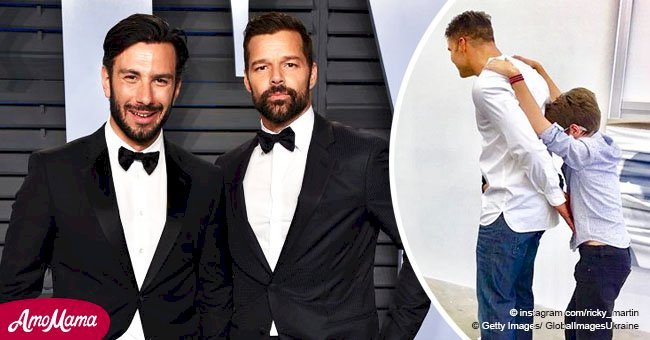 Ricky Martin's husband shared a photo of their sons, showing how big they have grown
Ricky Martin's husband, Jwan Yosef, published a photograph of their twins and you won't believe how big they are now.
The photograph was published at the opening of the individual art show "A Gathering of Eagles". Yosef's work presented at the Praz-Delavallade gallery in Los Angeles.
The snapshot was accompanied by a beautiful message that shows what his family means to him: "My life, my inspiration" as reported by People.
In the black and white photo, you can see Yosef with Ricky Martin and the two handsome 10-year-olds. Valentino is on the left side with the Puerto Rican singer and Matteo on the other end next to the Syrian artist.
Ricky Martin also posted a photo about the work his husband is doing right now. In the snapshot, he appears with his son Valentino and the gallerist.
In the text that accompanies the photo, he invites people in Los Angeles to attend Yosef's show. "If you are in the Los Angeles area from now until January 12, don't forget to check out Jwan Yosef's solo show 'A Gathering of Eagles', you will love it."
The Puerto Rican singer and his husband have a great family; they've worked hard to help the victims of Hurricane Maria in their country.
A few days ago the singer indicated that the goal for them is to deliver between 100 and 110 keys of new houses for people who lost everything because of the natural disaster.
However, the famous artist struggled for many years about his sexuality and being brave enough to come out of the closet and be true to himself.
During his appearance on 'Watch What Happens Live' with Andy Cohen, the pop singer opened up about an awkward 2000 interview regarding his sexual orientation with Barbara Walters in which he had to answer a difficult question.
Everyone can remember when Martin came out in 2010, but way before then, he had chosen to dodge the question raised about his sexuality by Walters on her show.
Please fill in your e-mail so we can share with you our top stories!