Jennifer Lopez flaunts her extremely low-cut pants-with-underpants look
Images of the singer during the shooting of a new video with frequent collaborator DJ Khaled in Miami show her wearing grey low-cut baggy pants that let her matching thong be seen.
It might look like a wardrobe malfunction, but it is actually another conscious and carefully executed fashion statement for the 49-year-old artist who thus demonstrates that she is still a pioneer of style.
According to Marie Claire, the dress pants and apparent underwear are made of the exact same tweed print fabric and seem to be sewn together at the pants waistband. Read more on our Twitter account @amomama_usa
Lopez has always been ahead of her time when it comes to her style, and it wouldn't surprise us if this becomes the next fashion craze.
The multitalented performer accessorized the outfit with several necklaces and bracelets in gold and silver, also adding big earrings, giving the look a hip-hop feel.
DJ KHALED WAS PRETTY MUCH INTO THE LOOK
TMZ obtained a snapshot of DJ Khaled taking one last look at Lopez as she was about to get in a car to leave the set, and they jokingly suggested that the record producer almost broke his neck turning around to admire her.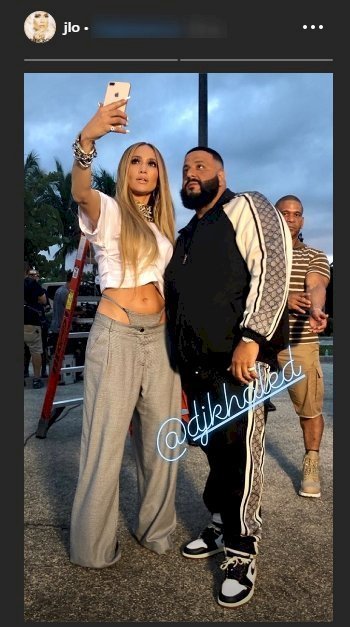 COVERGIRL
Back in October, images of one J-Lo's latest photoshoot for InStyle, which will feature the star on the cover of its December edition, were revealed, and she once again shocked her fans with a very revealing outfit.
The mother-of-two flaunted her age-defying figure wearing nothing but a green sparkly cape that let her entire profile exposed for the camera.
A BODY IMAGE INFLUENCER
Famous for her curvy derriere, Lopez told In Style that even when she had an early influence in the movement toward embracing curvier body types, she never intended to do it and just showed the confidence her background gave her.
"I didn't realize what I was doing — I was just being myself," she says. "In my family, curves were glorified and part of the culture. It was just like, 'Jennifer has a big butt, and it's good.' "
-Jennifer Lopez, InStyle, October 31, 2018.
SHE INSPIRED A LINE OF LEGGINS
But nowadays she knows how influential she is and she is involved in a new fashion endeavor that is taking the world by storm, in alliance with Niyamasol, launching a line of leggings inspired by her career.
Lopez knew that there is no better way to spread the word about the project than modeling the leggings herself, and she took to social media to reach her massive following and give them the good news as well as some eye candy.