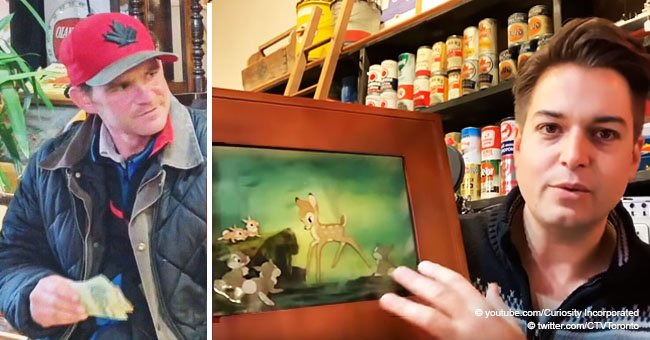 Homeless man finds piece of art in a dumpster that leads to life-changing experience
The life of a homeless man is improving thanks to a work of art that he found in the trash.
Adam, a Canadian man who has been sleeping on the streets of Edmonton, Alberta, found the artwork when he was dumpster diving.
He discovered a rare frame with an authenticated drawing of Disney's animated film, "Bambi," which was used in the production of Walt Disney's 1942 film classic.
After discovering the illustration, he sold it to Alex Archbold, owner of the antique store Curiosity Inc., for $20. It seems that neither Archbold nor Adam knew exactly what they had found until the work of art was later sold on eBay for $3,700.
DISCOVERING A TREASURE
Archbold documented on his YouTube channel the moment where he found a certificate of authentication and Disney's logo on the cell after removing it from the old, ratty frame where Adam found it.
However, instead of keeping the profits to himself, Archbold decided to track the homeless man and divide the profits.
"I decided the right thing to do was to find him, and whatever it sold for on eBay, I was going to give him half," Archbold told CTV News. "Here's a guy who needs it more than I do, so I just thought it was the right thing to do."
The man then embarked on a 3-week search to find Adam but had no luck.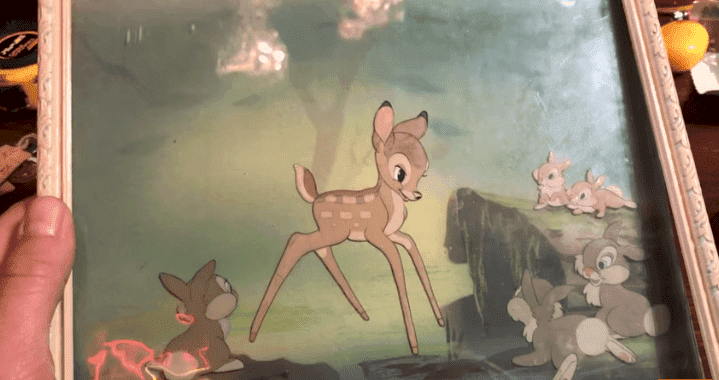 Source: YouTube/Curiosity Incorporated
TRYING TO FIND ADAM
"Getting him the money was difficult because he has no home and no phone number," Archbold told CBC. And continued:
"I took it upon myself to drive around town for a period of two weeks every single morning before work to try and find him. I found two of his friends; they told me that when they saw him next, they would tell him to come in. And sure enough, he walked in my door."
Finally, Adam returned to the store to sell another trinket. Archbold asked him to meet for lunch the next day, with the excuse of interviewing him about his findings on dumpsters for his YouTube channel.
SURPRISING THE HOMELESS MAN
Adam accepted, and the next day, Archbold documented the moment he surprised the man with a manila envelope containing $1600 in cash, plus an additional $100 and the lunch invitation
"He's a very humble and nice man, and he was silent. He was tearing up a little bit. He said, 'Is this a joke? Is this for real?' And I said, 'It's 100 percent for real,'" Archbold explained.
But the antique store owner didn't stop there in his efforts to help his new friend.
He decided to set up a GoFundMe page with Adam's authorization to help him get off the streets just in time for winter. It turns out, Adam is a father of three kids and wants to get his family back together in London, Ontario.
He's been living on the streets for three years and is currently staying at a motel with the money from the animation cell.
The GoFundMe already surpassed the initial $10,000 goal and keeps running, with people from all over the world rooting for Adam and wishing him the best of lucks to get back on his feet.
ANOTHER TREASURE FOUND IN A DUMPSTER
A woman from Connecticut said that an etching that his deceased father saved from a garbage container at Yale University about 17 years ago is an original artwork by the renowned Chinese artist Zao Wou-Ki.
Cheryl Conroy Warren discovered the real value of that piece, which is estimated to be worth around $10,000 to $15,000 when she had the opportunity to appear in the famous "Antiques Roadshow," according to the New Haven Registry.
"I think it's hysterical, I think it's very funny," Warren said. She revealed that she would sell the artwork and give the money to her mother, Barbara Conroy.
Zao Wou-Ki was a renowned Chinese painter based in France. Some of his works have been recently sold for $1 million.
Please fill in your e-mail so we can share with you our top stories!