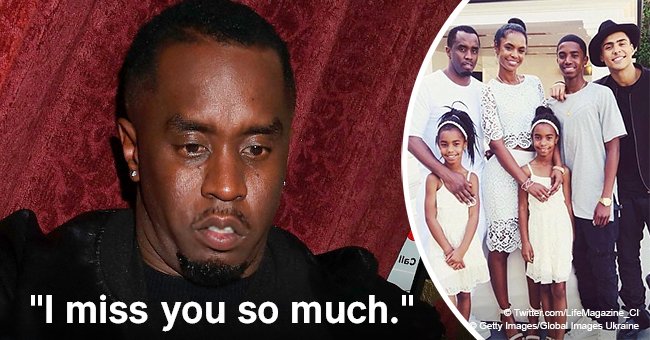 Diddy breaks silence on ex Kim Porter's tragic death with emotional tribute in touching posts

Sean "Diddy" Combs breaks his silence and opens up about the "nightmare" he's been in since the sudden death of his ex-girlfriend, Kim Porter. In an emotional tribute, the rapper shares a series of posts with touching messages for the woman he considers more than a soulmate.
P. Diddy is mourning the death of Kim Porter who tragically died on Thursday. The grieving star took to his Instagram to honor Porter in a series of heartbreaking tributes.
AN UNEXPLAINABLE RELATIONSHIP
The first of Diddy's posts was the most heartbreaking of all. Here he expressed what a nightmare it was to wake up every day without Porter in his life.
"For the last three days, I've been trying to wake up out of this nightmare," Diddy began. "But I haven't. I don't know what I'm going to do without you baby. I miss you so much."
Diddy continued by describing his "unexplainable relationship" with Porter.
"I'm going to try and find the words to explain our unexplainable relationship. We were more than best friends, we were more than soulmates. WE WERE SOME OTHER SHIT!! And I miss you so much."
To end his message, he wrote the words "Super Black Love."
Diddy's heartfelt words were accompanied by a montage of throwback clips highlighting sweet moments between him and Porter during a maternity shoot. They were dancing, caressing and kissing each other as they talked about their "black love" and their "beautiful chocolate babies." The couple share three children together – son Christian, 20, and twin daughters, D'Lila and Jessie James who turn 12 next month. Diddy is also like a father to Porter's son, Quincy Brown. The 27-year old is Porter's son with Al B. Sure.
MORE EMOTIONAL TRIBUTES
The post spawned several other posts later as Diddy continued to express his sentiments for Porter. In a post following the video montage, he shared a photo of the 47-year-old all glammed up in a gold dress and wrote,
"Words can't explain FOREVER AND EVER AND EVER!!! Infinity and BEYOND!!!!"
This was followed by another photo of Porter on a sailboat which he simply captioned, "KIMPORTER."
The last in the series was a montage of images of their family. He vowed to take care of their children in his message.
"I'll raise our family just like you taught me to. Love you forever!!!! I CANT BELIEVE THIS [expletive]! [expletive]!"
A PRAYER FOR PROTECTION
This isn't the first time Diddy reacted to the tragedy on social media. On the day of Porter's death, he posted a prayer asking God for protection from "ANYTHING That Wasn't Sent By You." The cryptic message was accompanied by a caption of praying hands.
SUDDEN DEATH OF PORTER
News of Porter's death shocked the singer as well as their friends and family. Her cause of death remains unknown but she was reportedly suffering from flu-like symptoms and pneumonia at the time of her passing. An autopsy is still being conducted to shed light on Porter's death but foul play has already been ruled out.
KIM AND DIDDY
Diddy and Porter dated on and off for 13 years. After they split in 2007, they remained close and even spent holidays together along with their children. A week before she died, Porter honored her relationship with Diddy by sharing a photo of him and his children on his birthday. She simply captioned the image, "Love."
She also wrote a separate greeting describing Diddy as a 'GENIUS" and a "Driving Force of ENERGY." She thanked him for her best gifts – their children.
FINDING SOLACE WITH ANOTHER EX
Amid his mourning, Diddy was recently spotted taking comfort in his other ex, Cassie Ventura. The couple parted ways in October but reports suggested Ventura reached out to Diddy upon hearing of Porter's passing. Diddy was allegedly "pleasantly surprised" by Ventura's gesture and must have responded to her call. The couple was seen leaving The Movement Performance Institute in LA just a day after Porter's death.
Please fill in your e-mail so we can share with you our top stories!