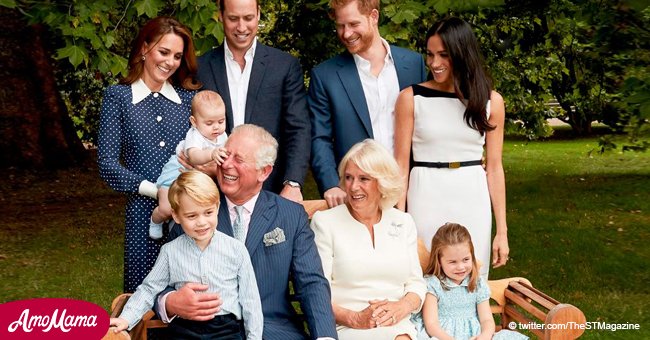 Prince Louis gets 'Prince of Hugging and Grabbing' title after cute new photos were published
For Prince Charles' 70th birthday this month, he took some family photos of those he holds near and dear. One such image was released on Sunday by Clarence House.
In the recently released picture, the prince could be seen sitting on a bench with his wife Camilla and his grandchildren are surrounding him. Prince Louis is seen grabbing his grandfather's face in one adorable shot.
Prince Louis got away with grabbing his grandfather's face in a recently published photograph. The image shows Prince Charles, 70, laughing joyfully for the "outtake."
Next to him is his wife Duchess Camilla and next to her is Princess Charlotte. Prince George is seen sitting on his grandfather's lap whom they call Grandpa Wales.
For more on this story go to our Twitter account @amomama_usa. Behind Charles is his son's wife and Louis' mother, Duchess Kate, who's also seen laughing in the photograph.
Next to her is her husband and Louis' father, Prince William. The last two family members in the shot are Prince Harry and his wife Duchess Meghan.
The cute pictures have earned Louis the title: "Prince of Hugging and Grabbing." Another rare image shows the 7-month-old baby snuggling up to his grandfather as he smiles at someone who's out of the shot.
Chris Jackson from Getty Images is the one responsible for the family photographs. The pictures were taken in September at Clarence House ahead of Charles birthday.
Jackson has taken photos of the Royal family for the past 15 years. He had exclusive access to Charles over the past year.
The photographer shared about the shoot saying, "It was lovely chaos with the grandchildren - he is a very hands-on grandfather." His wife, Camilla also shared some insight into Charles' relationship with his grandchildren.
"People don't see him as being someone who will roll around the floor with the children, but he does. He will literally get down on his hands and knees. He really loves them. He is sweet with his own grandchildren and little Louis tugs at his hair and his nose. He doesn't get cross or angry, he loves it."
It's believed that Charles' parents, the Queen and Prince Philip weren't included in the family photos because of "etiquette." Duncan Larcombe a former Royal correspondent explained:
"The main reason is that it's Prince Charles' birthday portrait, so he should be the most senior member of the royal family to appear in it. There's also more evidence than ever that there's a conscious effort to start pushing Charles to the front as he takes on a more prominent role."
Please fill in your e-mail so we can share with you our top stories!