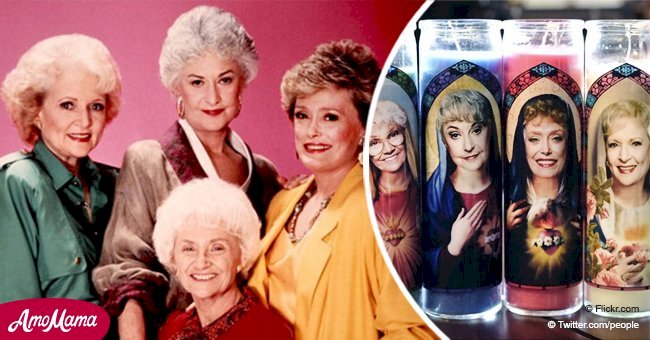 'Golden Girls' will light up your Christmas with adorable holiday stuff
No one will be able to light up your Christmas quite like the 'Golden Girls' this year. The spirited group of women was great problem solvers and big on cheesecake, and their candle set is bound to let the flame of friendship burn even brighter this festive season.
Offering the perfect last minute gift, Dorothy, Rose, Blanche, and Sophia is now available in 8-inch tall prayer candle form. Vinyl stickers printed on high-quality weather and fade-proof paper are made to last as long as the 100 hours burning of the candle and feature different designs
A set of candles featuring all the beloved Golden Girls costs $44 from The Eternal Flame shop and comes with a thoughtful note that says. 'Thank you for being a friend.'
Read more on our Twitter account @amomama_usa.
Other sets are also available, and if you like hanging pom-pom balls, the giftset costing $30 at SugarSkullDesign is for you. The 'Golden Girls' candle set makes the perfect, last minute gift, and whether you share candles separately or as a set, be sure to burn the midnight oil, or candle, with a those you cherish this festive season.
But fairly soon you will be able to enjoy pondering over Christmas gifts while enjoying some 'Golden Girls' cheesecake of your own. The Disney publication, Babble, announced the release of a collection of recipes based on the 80's sitcom and will be published by Kingswell in 2020.
The collection features at least one creamy cheesecake recipe, as Babble gave a sneak peek by releasing a double fudge chocolate cheesecake recipe from the upcoming cookbook.
Perhaps burning a 'Golden Girl' prayer candle will make the book come out sooner, you never know. However, the candles and cookbook are not the first 'Golden Girls' inspired remembrances created.
Earlier this year at the San Diego Comic-Con clothed action figurines of the four ladies got released. These realistic looking figures have painted on hair, fabric clothing and make-up for each of the four women.
The National Entertainment Collectibles Association (NECA) posted an update on Facebook on July 24 sharing feedback regarding the figurines as they wrote:
"We received some great responses to The Golden Girls 8" Cloth Action Figures Assortment, especially when it came to the face sculpts. Trevor Grove Sculpture is responsible for the exquisite detail on these along with a few of our other figures announced at SDCC!"
The figurines won't be released until early 2019 but are available for pre-order, with some sites already having announced shipping dates for February 2019. The price range for the figurines goes from $110 to $114.99.
Please fill in your e-mail so we can share with you our top stories!