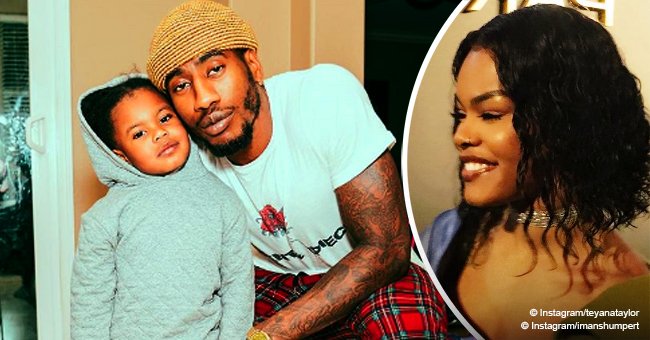 Teyana Taylor's husband shares pic with daughter Junie, showing off their striking resemblance
Extraordinary father Iman Shumpert shares yet another adorable photo with his daughter who steals hearts every time.
Iman Shumpert is all kinds of wonderful as a father to his daughter Junie, who he shares with Teyana Taylor. His recent post is a testament to this, as he indulges the two-year-old's request to have a picture with him.
CHEEK TO CHEEK
"Let's take a picture daddy," Iman writes, to caption the most recent of many photos he has with his daughter. The basketball star constantly dotes on her and this day is no exception.
Clad in red and green checkered pants and a t-shirt, Iman stoops down so he's leveled with his look-alike daughter and close enough to have a cheek-to-cheek moment. Junie delights in the attention while bundled up in grey sweats and a matching hoodie.
AN UNFORGETTABLE ASSIST
Iman is an extraordinary father but in order to understand this, we'll have to start from the very beginning - the day Junie was born. In an unexpected twist, the little girl came earlier than anticipated, forcing her parents to deliver her at home. A nervous Iman took it upon himself to assist his wife in welcoming their daughter in their home's bathroom. He even used the cord from a pair of headphones to tie the umbilical cord while waiting for 911's response team to arrive. Of the experience, Iman says it's the "assist that I'm never going to forget."
GOING SOFT
With so much involvement in his only child's birth, it's but natural that Iman would be even more involved in her day to day life. Along with Teyana, he devoted an Instagram account just for her. Junie has over 264,000 followers, thanks to her parents who documents her every adorable moment.
Last month, Junie and Iman trended when the proud father confessed turning soft because of his daughter.
"This father stuff will turn you soft man, really soft lol."
The next thing he knew, his post was flooded with photos and videos of fathers and their children with dads expressing how soft they'd become too. The response was astounding prompting Iman to tweet the figures and take pride in finding a lot of fathers who share his sentiments.
CHILD STAR
It isn't really surprising that Iman would go soft on his daughter. Junie is quite adorable. During one of her mother's recent shows, she stole fans' hearts by taking over the microphone on stage and relishing the moment by approaching the audience and waving at them. Her mother was floored by the move, amazed at her daughter's stage presence and rapport with her crowd who went wild. The little girl is destined to be a star.
She may be two, but Junie's definitely making quite an impression, much like she did the day she was born.
Please fill in your e-mail so we can share with you our top stories!