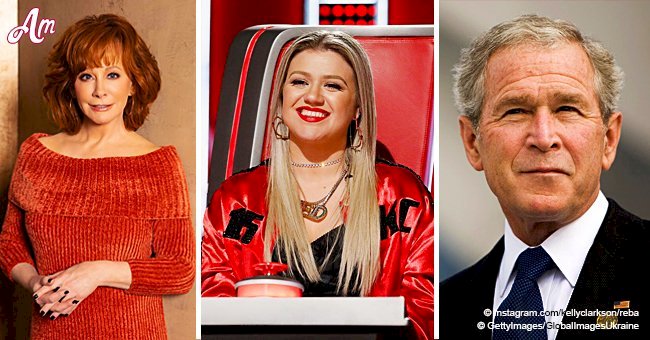 5+ unbelievable facts about Reba McEntire's life that may surprise even her biggest fans
Here are some of the things about Reba McEntire's life that even her greatest fans probably didn't know.
McEntire, 63, who started her profession in the music business as a high school student singing in the Kiowa High School band, apparently has the brilliant touch in country music.
Without a doubt, she is one of the most generally respected superstars in Hollywood.
However, there's considerably more to her than meets the eye and ears. Follow us on our Twitter account, @amomama_usa, to learn more.
The Award Winning Singer's Entire Band Died In A Plane Crash
In 1991, McEntire had performed with her eight-member band in San Diego. That night, they were booked to fly to Indiana.
However, the legendary country music superstar suffered bronchitis. She then chose to spend an additional night in California while the band proceeded.
Unfortunately, the aircraft crashed, killing each member of the band as well as the pilot and copilot.
McEntire later released her first album called "For My Broken Heart," which was dedicated to her band.
Pop Singer Kelly Clarkson Is Her Daughter-In-Law
McEntire's stepson, Brandon, is married to Clarkson. The country music star was excited when the couple announced their engagement.
In an interview with Katie Couric, she said, "Thrilled to death. To have my buddy as my daughter-in-law, I mean, who could ask for more?"
She Thinks She Lived A Former Life As A Man
McEntire admitted that she believes in reincarnation. She also thought that she might have carried on with a different, past life as a man.
The "I'd Really Love to See You Tonight" singer stated in an interview, "I believe I've gone both ways — that I have been here before as a man."
In A Series Of KFC Commercials, McEntire Played Colonel Sanders
The award-winning singer took on a totally new role in 2018 when she played Colonel Sanders.
Embracing the bizarre casting choice, she said in a statement, "I grew up with Kentucky Fried Chicken. It's part of my story, and I'm so excited to now be part of theirs."
"I've held a lot of roles in my life — sort of like the Colonel himself — but this is certainly the most unique one yet."
McEntire Turned Down "Titanic" Role
Actress Kathy Bates played the role of the "unsinkable" Molly Brown in "Titanic." However, the part initially went to McEntire.
In the end, McEntire was forced out due to the movie's overlong production schedule.
She later clarified, "I turned it down because they kept moving my schedule, and we had arenas booked."
McEntire Is A TV Superstar
The touring country singer has been in many movies and television shows. Her highest-profile acting work was on her namesake television series, which ran from 2001 to 2007.
She made an appearance on "Malibu Country" for one season in 2012. Then, she talked about the possibility of bringing "Reba" back to TV in 2017.
McEntire's Email Friendship With Former President George H.W. Bush
In 2008, she said, "[W. and I] e-mail each other on our Treos all the time — nothing political, just passing jokes back and forth. He's really into e-mail and so are his buddies. Senior Bush invited my husband [Narvel Blackstock] and I on a private cruise to the Greek islands about four years ago. We became very good friends, and that's when the e-mail stuff started."
McEntire has released 29 studio albums. Referred to as "The Queen of Country," she is one of the best-selling artists of all time, having sold more than 95 million records worldwide.
Please fill in your e-mail so we can share with you our top stories!