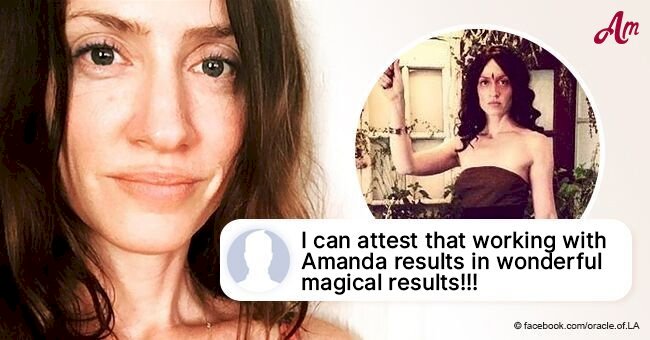 'Real-life witch' who believes she's over 300 years old reveals how to attract love
A woman from California claims to be a more than 300 years old witch, and she offers private sessions for $100 that according to her can help people find their true love.
Her name is Amanda Yates García and according to Daily Mail, she calls herself "The Oracle of Los Angeles" and she assures that she can find solutions for all of life most important issues.
"Health, creativity, career, sexuality and relationships, fertility, anxiety, manifesting abundance and more" Yates lists on her website as the areas on which she can make people improve with her spells.
Yates gained notoriety in 2017 when she and other so-called witches revealed to have used magic on US President Donald Trump to stop him for causing harm to the country. Read more on our Twitter account @amomama_usa
Yates has shared a ritual that anyone can replicate at home to attract love into a person's life. In case you want to try it, you will need white flowers, rose quartz, black tourmaline, gardenia oil, candles, and water.
The enchantment must be executed when there is a full moon, and the person practicing it has to take a bath with all the above-mentioned ingredients.
After this, the man or woman must write the following on a piece of paper:
"By the powers of the goddess within me, I draw to me my new love, someone who celebrates [blank]."
"My mission is to create an army of celebrants of the Goddess of Love. Together, we will re-enchant the world!"
You will need to add six positive aspects of your personality and then set the piece of paper on fire with a pink candle. In order for this to work, it must be repeated every day during the full moon.
"Today I draw from a broad range of esoteric strategies including the Western Mystery Traditions of tarot, alchemy, and Hermeticism; shamanic healing practices; positive magic and witchcraft; herbalism; energy work (Reiki, tantra and other yogas); psychomagic and more."
-Amanda Yates García, The Oracle of Los Angeles.
With her alleged powers, inherited from a family of magical tradition, Yates expects not only to assist her individual clients but also to make a positive change in the world by bringing the best out of everyone.
"My mission is to create an army of celebrants of the Goddess of Love. Together, we will re-enchant the world!" she states.
Just as some people believe that performing certain acts one can attract desired things, superstition has it that some actions we do without intention can give us bad luck.
If you want to avoid those negative energies, check these 14 things you must refrain from doing if you want to be covered against misfortune. Some are really surprising.
Please fill in your e-mail so we can share with you our top stories!