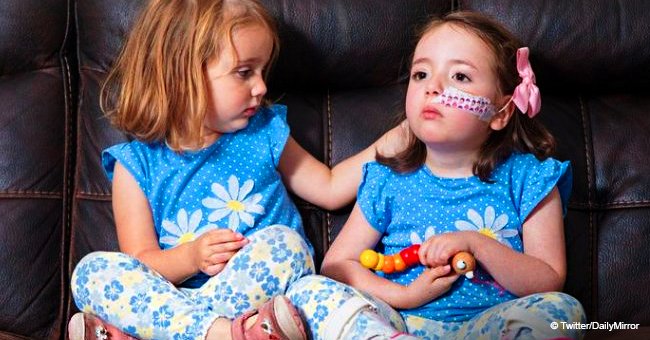 6-year-old girl with dementia saves life of 3-year-old sister thanks to their special connection
For Gail and Matthew Rich, it has been devastating to deal with the disease that attacks their two daughters, and on top of that, they have to fight for the treatment they deserve. However, the girls have an incredible connection that not even an incurable disease can erase.
Nicole and Jessica Rich are diagnosed with Batten disease, a genetic condition that affects the nervous system which has no known cure and no treatment available on the NHS. Affected children can suffer a loss of sight, speech, and motor skills, as well as dementia, mental impairment, and seizures.
THE DIFFERENCE TIME CAN MAKE ON THE DIAGNOSE
Nicole, 6, was diagnosed two years ago. But it was too late in the development of the disease to stop the most devastating symptoms. She can't eat or walk by herself and has never spoken, which was the first sign that took her parents to find help.
"Nicole saved Jessica - it's what we have been told many, many times."
Jessica, 3, on the other hand, is a bubbly, sweet girl that leads a "normal life," except for the fact that she has to receive a treatment that's directly injected to her brain twice a month at the Great Ormond Street Hospital, where she's joined by Nicole too.
The youngest Rich was only 1-year-old when Nicole was diagnosed, which prompted Gail and Matthew to run the test on Jessica too, hoping to receive good news but getting devastated after she was also diagnosed with Batten
A SPECIAL SIBLING BOND
However, getting an early diagnose has made a significant difference in Jessica's experience with the diseased, in comparison to her older sister. "Nicole saved Jessica - it's what we have been told many, many times," said Gail. "If it wasn't for Nicole, nobody would have known about Jessica until it might have been too late."
Little Jessica dotes on her big sister and acts like a "mother hen," according to the girls' mom.
"If she coughs, she'll run to tap her back. She holds her hand when they are together and leads her around. She'll go slow to help her and cuddles her and pats her face. She's just so lovely. Of course, she doesn't fully understand - but she knows they have a bond and that gives us hope."
THE TRIAL TREATMENTS
After Nicole was diagnosed, the Rich family heard about a treatment trial running in the UK, but the spots were taken. However, with the help of the Batten Disease Family Association, Gail and Matthew fought to get their daughter an extra place, and she started the treatment in January 2017.
Jessica, on the other hand, earned a spot on a separate sibling trial in Hamburg and started the treatment in May 2017. Gail and Matthew had to take a child each one and travel to London and Germany every two weeks for ten months.
Last March, Jessica was given a spot on the same treatment trial as Nicole at GOSH, and now they get to hold hands while receiving an enzyme replacement therapy given directly into their brain by a device which sits inside the skull.
Jessica is still not showing symptoms, and while is devastating for the Rich to have the perfect examples of an early and a later diagnose on their family, they're not dwelling on the "what ifs." Instead, they're hopeful about the future, even though children with the disease usually don't survive to their teenage years.
"We know Nicole will never be able to walk by herself again, but we don't sit and cry about what she can't do every day. We have three beautiful children who are here with us now. It's time to make memories - and we have lots more to make."
The family is always working to raise awareness about the Batten's disease and o raise funds for research through the Nicole Rich Foundation.
Please fill in your e-mail so we can share with you our top stories!
The information in this article is not intended or implied to be a substitute for professional medical advice, diagnosis or treatment. All content, including text, and images contained on news.AmoMama.com, or available through news.AmoMama.com is for general information purposes only. news.AmoMama.com does not take responsibility for any action taken as a result of reading this article. Before undertaking any course of treatment please consult with your healthcare provider.