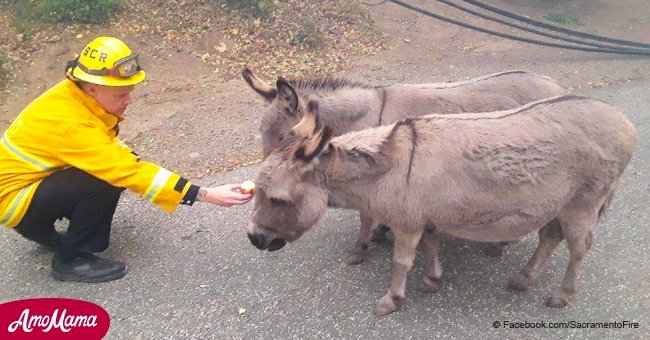 Firefighters spot two tired donkeys fleeing wildfires and rush to help the exhausted animals
Officers from the Sacramento Fire Department encountered two of the most unexpected and unlikeliest survivors of the California Wildfire.
Firefighter Chris Harvey and the department Chief Gary Loesch were driving down Honey Run Road in Paradise, California to investigate an accident caused by a falling tree when two donkeys emerged from the smoke.
The Sacramento Fire Department took to Facebook to share the photographs of the unusual rescue conducted by the firefighters involving the two weary animals.
The images prove that it is not just humans that are being affected by the catastrophe that started with an uncontrollable Camp Fire.
Follow us on Twitter to learn more.
At first, Harvey and Loesch were unsure as to what they should do. But after a moment of observation, they realized that the animals were lost. They also seemed tired, worn out, and hungry.
Harvey told the Dodo, "We pulled over to let them pass, and saw that they looked very tired, worn out and thirsty. I tried to give them some water in my hand from a water bottle, but it kept spilling out."
He knew that the animals would need more than just water after what they had been through. Determined to help not just people but also the animals suffering from the wildfire, the firefighter then pulled out some apples from his lunch sack and gave them to the donkeys.
The donkeys seemed grateful for the snack as they ate the apples quickly. "They ate the apples quickly and seemed grateful for the snack," Harvey added. "We called base camp and had them dispatch animal control officers to get the donkeys."
The firefighters even waited with the donkeys until they were safe under the care of animal control. The Dodo suggested that the effort to reunite the donkeys with their family would start once the chaos caused by the wildfire settled.
As they evacuated their home, the father of the family, Joe, was recorded on camera consoling his young daughter - an inspiring act that has now gone viral.
Please fill in your e-mail so we can share with you our top stories!