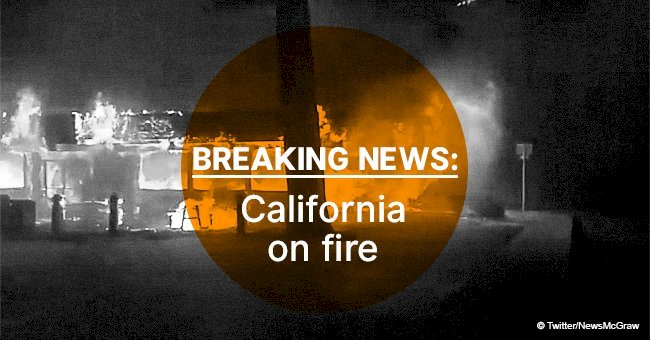 Multiple deaths, hundreds trapped, 27000 evacuated: California wildfire explodes in size
A massive wildfire is blowing uncontrollably through California. It has led to multiple deaths, trapped hundreds of people and forced 27 000 people to evacuate their homes.
What started as a campfire at 6:30 am on Thursday at Camp Creek, has become a raging furnace. The flames quickly caught onto the dry forest surrounding the area.
As a result, the fire began to spread through the forest. The stronger the winds blow, the faster the fire spread.
Acting California Governor, Gavin Newsom, declared a state of emergency in Northern California. The fire has already burned more than 20,000 acres of forest however due to unsavory weather conditions firefighters are struggling to contain the fire. Unfortunately, some residents were trapped in their homes or neighborhoods by the fire.
Read more on our Twitter account @amomama_usa.
All neighborhoods, schools, and hospitals in the areas affected by the fire were evacuated.
As winds hit speeds of 49.7 miles per hour, some people were forced to escape on foot to get out of their homes. Rescue workers are scrambling to get to trapped residents.
The evacuations orders cover the towns of Paradise, Magalia, Concow, Butte Creek Canyon and Butte Valley areas. The entire region is covered in thick smoke, and the power is also gone down a while ago.
'Pretty much the community of Paradise is destroyed, it's that kind of devastation,' said Cal Fire Capt. Scott McLean on Thursday night, "The wind that was predicted came and just wiped it out."
The National Weather Service has issued red flag warnings for fire dangers in the state. They warn that the low humidity and strong winds are expected to continue well into Friday evening.
In December of last year, South California had experienced similar warnings and evacuations due to wildfires. The notorious Thomas Fire burned 273,400 acres. It became the largest wildfire in California history.
The entire California region has struggled with serious wildfires on and off since 2017. The worst usually in November and December when the Santa Ana winds pick up. Santa Ana winds are strong, extremely dry downslope winds that affect California.
Many took to social media to share images of highways and roads flanked by fire or covered in heavy smoke. Some are also using social media to ask for help to evacuate friends and family.
Many also used it to pinpoint whether or not their loved ones have made it out of the evacuation areas. Firefighters are working hard to gain some control over the blaze.
Please fill in your e-mail so we can share with you our top stories!