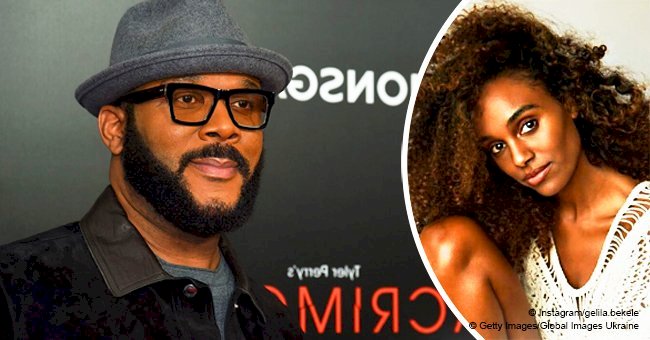 Tyler Perry's girlfriend steals hearts in white knit outfit, flaunting her long, curly hair in pic
Tyler Perry's girlfriend and baby mama is the perfect image of calm elegance in a recent picture she shared.
Gelila Bekele, 32, looked beautiful in a knitted white sweater-top as she posed for the camera. She also put her long toned legs on display and wore her wild curls free.
The ebony beauty pinned the lens with a soulful stare that made her look every inch the model she is.
Not many people know that Bekele and Perry have been dating for a long time because both are very protective of their personal lives. Even when rumors of a secret marriage were flying around, the two chose not to react.
The pair met at a Prince concert in 2007 and Perry, 49, recalled being blown away when he saw her. "I was like 'Who's that girl?'" he said.
"There's no other person on this planet that I would want to be involved with or have a child with 'cause she's amazing."
During a 2017 interview with Jess Cagle, the talented filmmaker also revealed how he found out Bekele was pregnant.
THE BIG NEWS
According to him, the Ethiopia-born beauty broke the news via FaceTime. Perry was also at the same place where he had found out, years before that the man he's always called dad wasn't his father.
"I get a FaceTime call, and she's holding up the pregnancy stick. I'm like, 'I guess this is happening.' It was so strange. I was in the very arena that I had played, and I got the test results back — the test saying my father wasn't my father."
A MAN IN LOVE
Bekele and the "Madea" creator welcomed their son, Aman Perry on November 30, 2014, and Perry confessed that their "lives revolve around him." He also said:
"There's no other person on this planet that I would want to be involved with or have a child with 'cause she's amazing."
LIKE MINDS
Bekele and her man have quite a lot in common. At last year's People's Choice Awards, Perry received the "Favorite Humanitarian award" for the contributions he's made via his foundation that raises money for those in need.
Meanwhile, Bekele is also a social activist and humanitarian who uses her platform to advance the causes close to her heart, like providing food, clean water, and education for girls in developing societies.
One of the NGOs she collaborates with is Charity Water, an organization dedicated to providing clean water to developing countries.
After the birth of their son, she and Perry sent out a birth announcement, asking family and close friends to send donations to the NGO instead of baby gifts.
A beautiful soul encased in a stunning face and physique- we're not surprised Perry is smitten. Plus, she dances too! Check out her moves in this article we wrote three months ago.
Please fill in your e-mail so we can share with you our top stories!