Customers left red-faced after seeing polar bears' x-rated Christmas display in shopping mall
The Tynwald Mills mall, located on the Isle of Man, already made the Christmas decoration. Most people considered that it was an epic fail, and they took to Twitter to show why.
One of the people who took photos and uploaded them to social media was Sam Turton. In his message, the man admitted that the mall set up a "lovely polar bear display."
However, the images he attached to the tweet set clear that it was a sarcastic declaration. One of the photos showed a couple of tiny Christmas trees, two white penguin sculptures and, the highlights, two polar bears in an x-rate pose.
@TheLastLeg #isitok A shopping outlet in the Isle of Man set up a lovely polar bear display for Christmas and it looked like this. pic.twitter.com/NtXxfggTm5

— Sam 🐈 Turton (@TurtonSam) November 19, 2018
MORE PHOTOS OF IT
Turton uploaded another pic from a different angle that set clear that they didn't plan it that much and that were probably too lazy to take it down when they saw the final result.
SNEAK-PEAK
One of the photos even showed another bear behind the stars of the Tynwald Mills mall looking at them just as if it wanted to sneak-peak. Other people consider that it was not a mistake but a way to lift the Christmas spirit in the funniest possible way.
Went to Tynwald Mills today and was quite amused yet disturbed by their placement of their Xmas polar bears 😳🙈🤣 #merryxmas #ohmy #naughtybears #feelingthelove #frombehind #bearbehind @Laughology pic.twitter.com/V5vvTgGmSB

— Ruth Hogg (@MrsManxTiger) November 18, 2018
Ruth Hogg, another Twitter user, confessed that she felt both amused and disturbed by the placement of the polar bears. Several people retweeted and commented on that Christmas décor.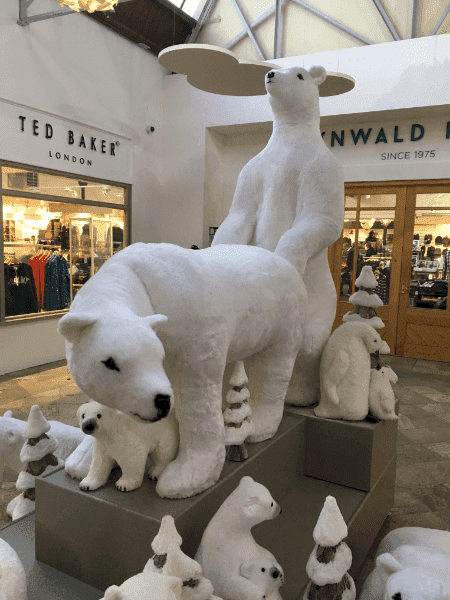 PEOPLE'S REACTION
One of the funniest things a person wrote about it was that the Tynwald Mills mall gave a whole new meaning to "riding the Polar Express." Another Twitter user set clear that the bears "had to be told to refrain themselves."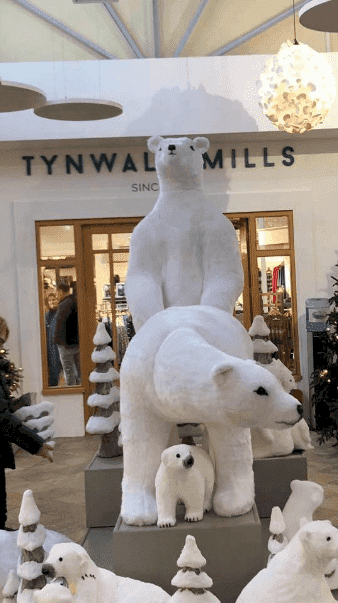 THE PUBLIC APOLOGY
Soon after the polar bears became viral, the mall released a statement pointing out that they had rearranged the atrium. They also apologized to anybody offended "by our somewhat interactive display," adding the hashtag "Naughty Bear."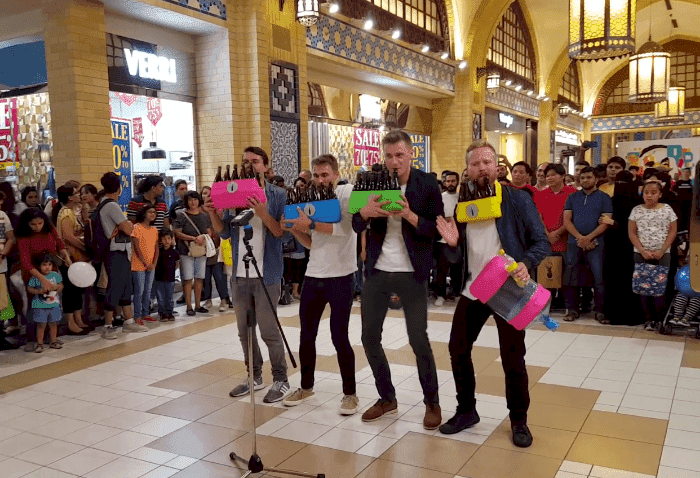 A SHOW IN A MALL
It is not the first time that something surprising takes place in a mall. A group of four men, who created the group "The Bottle Boys," got in the middle of a shopping mall in Dubai with nothing but bottles and a mic and put up a great show.
They made a mashup with 22 songs of the 90s in less than two minutes. They played everything from Mr. President's "Coco Jambo," to Los del Rio's "Macarena," Aqua's "Barbie Girl," La Bouche's "Be My Lover," and Corona's "Rhythm of the Night" only using the bottles and the air of their lungs.
The audience around them was clearly surprised, and they started clapping following the rhythm of the mashup. When they finished, the small crowd cheered them, proving just how good was their presentation.